Discover Ancient NARA | UNESCO World heritage sites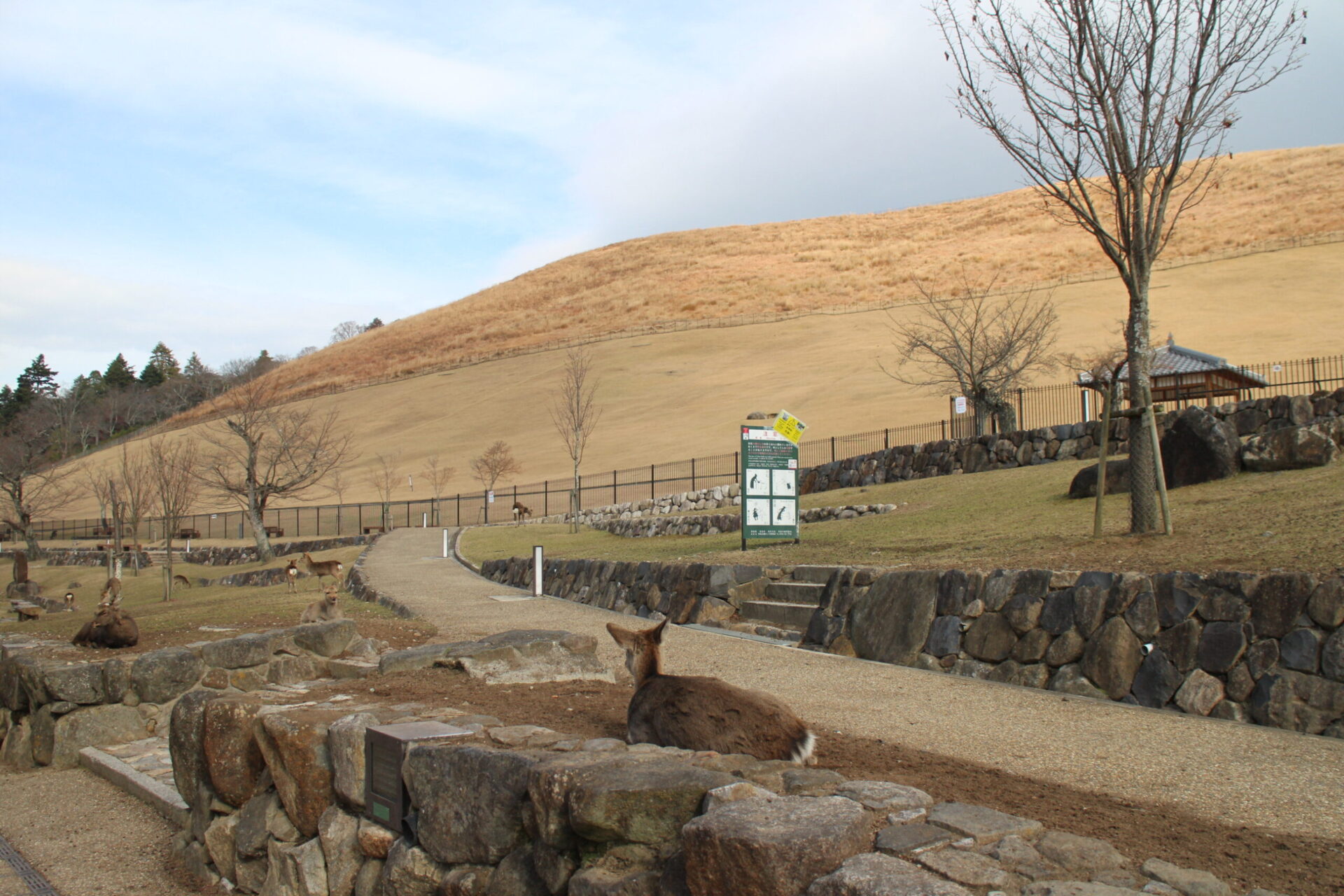 Nara was the capital of Japan and prospered as center of politics, economics and culture for over 80 years from 710 to 794.
Then the capital moved to Kyoto.
There are many UNESCO World heritage sites in Nara, – Horyuji registered in 1993; Todaiji, Kofukuji, Gangoji, Yakushiji, Toshodaiji and Kasuga Tahisha shrine and Kasugayama primeval forest and the Nara palace site registered in 1998.
Japanese culture was developed through cultural exchange with China and Korea, and Nara offers clear evidence of the exchange in many temples.
Nara is a compact city where the visitors can reach everywhere by walk or train.
Feel the ancient capital of Japan.
Nara Park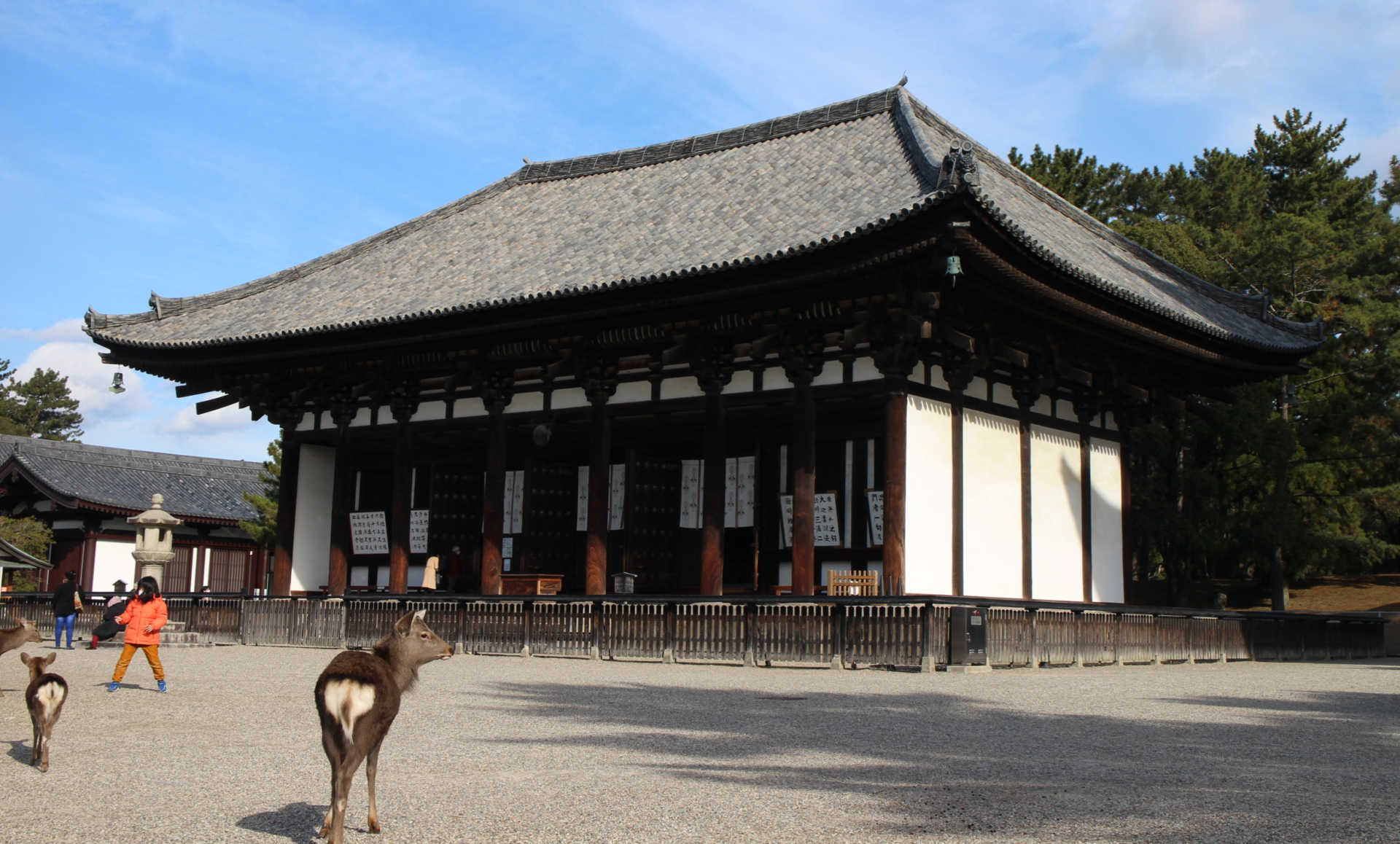 Located within walk distance of JR / Kintetsu Nara sta., Nara park encompassing four UNESCO World heritage sites is best to stroll while viewing many temples, shrines and museums.
Feeding the deer is another attraction and special crackers for deer are on sale everywhere in Nara park.
UNESCO World Heritage sites
Todai-ji Temple
The origin of Todaiji Temple is Kinshosen-ji established in 728 by Emperor Shomu as an appeasement for his first son who died before 1yrs old.
In 743 Emperor Shomu issued proclamation for ­­­­­­­­­­­­­­erection of Great Buddha statue to bring peace to a tumultuous period when a smallpox epidemic, crop failures and attempted coup occurred, and completed in 752.
Nandai Mon, Great South Gate
The main gate of Todai-ji, The Great South Gate was completed in 752 Nara period, but destroyed by typhoon during Heian period.
The present gate was completed in 1203 in Kamakura period along with a pair of guardian deity statues.
The Great South Gate is the largest temple entrance gate in Japan to meet the scale of the Great Buddha Hall.
Daibutsu Den, The Great Buddha Hall
The Great Buddha Hall is the Main Hall of Todai ji, originally built in the Nara period. Twice burnt down by fire in 1180 and 1567, the present Great Buddha Hall was rebuilt by support of monk Kokei.
The present structure was downsized from the original one because of funds shortage, but still The Great Buddha Hall having width of 57m, length of 50m and height of 48m is world's largest wooden structure.
Daibutsu, Vairocana Buddha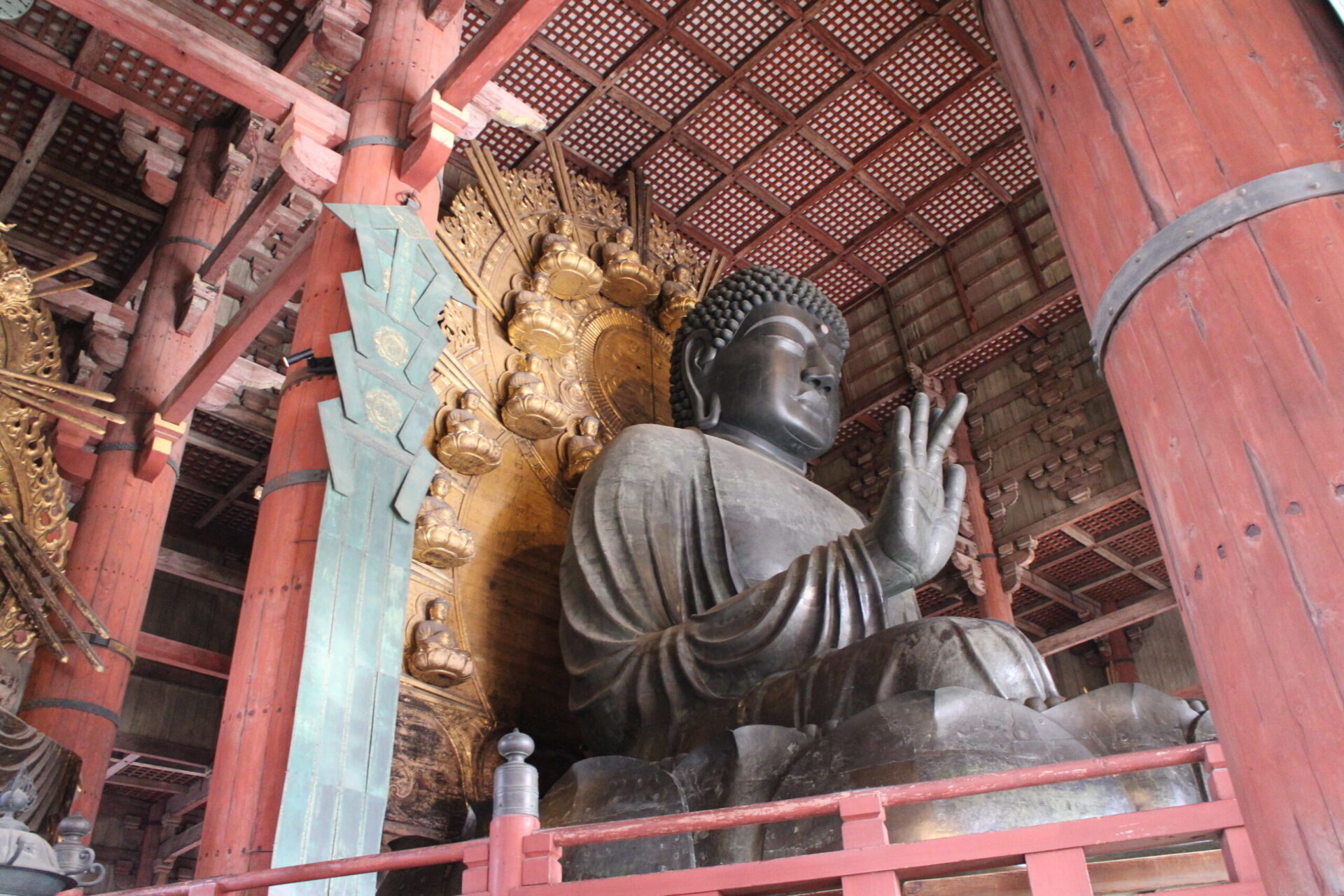 The Great Buddha Hall houses a huge bronze statue of Buddha, Daibutsu, the world's largest wooden statue with the height of 15m.
Cast from over 400 tons of bronze and originally gilded, the whole nation was involved in its construction.
The Daibutsu is properly Vairocana Buddha.
Sakyamuni was born as prince in India around in 580, and became a mendicant at the age of 29. After 6 years of practicing Sakamuni achieved enlightenment at the foot of Bodhi tree.
The engravings of the world of Lotus Treasury on petals represent the world of enlightenment.
Todai-ji Temple is the headquarter of the Kegon sect of Buddhism.
Todai-ji Temple is the headquarter of the Kegon sect of Buddhism, so "Kegon" is beautifully written on Goshuin-cho at Todaiji temple.
One of the pillars of Great Buddha hall has a hole wide enough for one person to pass thru, which is the same size as nostril of Great Buddha.
It is said that you can get god's benefit if you pass thru, so many students and tourists make a line in front of hole.
Nigatsu-Do Hall
O-mizutori (Water drawing ceremony) is held on the midnight of the 12th to the 23th of March at Nigatsu-do hall of Todai-ji temple.
O-mizutori is ritual performed for two weeks. The Buddhist priests pray for world peace and a rich harvest of crops. They brandish huge burning pine torches in the terrace of Nigatsu-do hall.
Worshippers below rush for the burning sparks which are believed to have the power to protect against the evil. When all torches burn out the worshippers draw water from the Wakasai well in the morning of the 13th and offer to Buddha.
The ritual signals spring has come.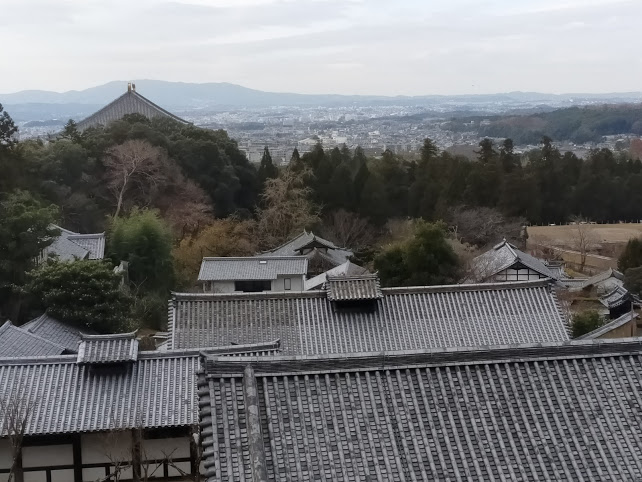 Kofuku-ji Temple
Kofuku-ji Temple was originally constructed by Kagami no Okimi in 669 in Kyoto to pray for the recovery of her husband Fujiwara no Kamatari.
When Heijo Capital, now Nara city was established Kofukuji Temple was moved to Nara in 710.
During Nara (710-794) and Heian (794-1180) periods Kofukuji Temple expanded under patronage of the court and the powerful Fujiwara clan, and merged with Kasuga Shinto Shrine.
But in 15th century Kofukuji Temple declined in political and economic situations and most temple complexes were destroyed by fire in 1717.
In early Meiji Period (1868-1912) Kofukuji temple was separated from Kasuga shrine because of government's anti-Buddhist policy, and abandoned.
Kofukuji temple thereafter became the main institution of Hosso sect of Buddhism and was eventually reestablished to the present.
Central Golden Hall
Reconstructed in 2018, the Central Golden Hall is the newest building and the most important structure in Kofukuji Temple.
Historically, Kohfukuji had three Golden Halls, and the oldest and most important was the Central Golden Hall, so named because of its central location.
Constructed between 710 and 714 under patronage of Fujiwara no Fuhito (659–720), but over the centuries, the Central Golden Hall was burned down seven times in total.
In 1819 donations from the people of Nara finally allowed for the erection of a small, temporary hall.
But the structure deteriorated, and demolished completely in the year 2000.
Following its removal, a new building faithfully reproducing the Nara period architectural style (710–794) original was built on the site in 2018.
The present hall houses an image of Shaka Nyorai , Bodhisattvas Yakuō and Yakujō, Daikokuten, and the Four Heavenly Kings, the goddess Kisshōten.
 Five Story Pagoda, Kofukuji Temple
Originally built in 730 Five Story Pagoda of Kofuku-ji temple was burnt down 5 times in total.
The present Five Story Pagoda dating to 1426 with height of 50.1m is symbol of Nara as the second highest tall pagoda following Kyoto's To-ji Temple.
The best photo spot is Sarusawa pond where Five Story Pagoda with deep eaves and dynamic style beautifully reflects on the surface of pond.
Eastern Golden Hall
Originally three Golden Halls – Central, Eastern, and Western – stood at the Kohfukuji temple complex.
Of these the Eastern Golden Hall was completed in 726 by Empreror Shomu to pray for recovery of retired Empress Genshō.
Eastern Golden Hall houses Yakushi Nyorai, known as Medicine Buddha along with his attendant Nikko and Gakko Bodhisattvas, and other images.
Eastern Golden Hall was burnt down by fire five times, lastly in 1411, and the present Hall was built in 1415 in Muromachi period.
Eastern Golden Hall employs original Nara-period (710–794)  architecture features such as covered porch stretching the full width of the front, three-stepped bracket, a hipped roof and a tiled stone floor.
The present Eastern Golden Hall houses Yakushi Nyorai, known as Medicine Buddha , his attendant Nikko and Gakko Bodhisattvas, along with Four Heavenly Kings and others, where we can view the entire Japanese Buddhist art.
Kasuga Grand Shrine
Kasuga Grand Shrine was established in 768 by Fujiwara clan, but the origin goes back to early Nara period (710-794).
Like the Ise Grand shrine in Mie prefecture, Kasuga Grand Shrine was rebuilt periodically every 20 years over centuries.
Located at the foot of two sacred mountains, Mt. Mikasa and Mt.Kasuga Kasuga Grand Shrine was built to protect the ancient Heijo-kyo capital and now serves as the head of nationwide spreading branch shrine.
Four main deities enshrined, including Takemikazuchi no Mikoto who, according to legend, travelled from Ibaraki in Northern Japan on a white deer to dwell on Mt Mikasa (Wakakusayama), above the shrine.
Since then, the deer have been considered sacred.
1,000 bronze lanterns hang on the vermillion colored pillars and eaves of Kasuga Grand Shrine, and 2000 stone anterns stand outside the precincts and along the pathway to the shrine.
On Lantern lighting Festival held in early February and mid August, 3000 beautifully fire lit stone and bronze lanterns can be seen.
Horyu-ji temple
Also Known as Ikaruga-dera, Horyuji-ji is a Buddhist temple in Ikaruga, Nara prefecture.
Horyu-ji Temple is not only the oldest Buddhist temples but also the oldest wooden structures in the world.
"Buddhist Monuments in the Horyu-ji area" were registered as UNESCO World Heritage Sites in 1993 consisting of Horyu-ji and Hokki-ji.
As the center for Buddhism during reign of Empress Suiko, Horyu-ji temple was founded in around AD.607 by Prince Shotoku.
Served as regent to Empress Suiko, Prince Shotoku established his leadership of Yamato Imperial government, and began an official diplomatic relationship with the Sui Dynasty of China and sent envoys called Kenzuishi to China.
Many sent to China played important roles in Japanese government after they came back.
Standing at Horyu-ji temple lasting over 1300 years, feel the power and energy of the ancient times.
Sai-in, West precinct & To-in, East precinct
Horyu-ji temple consists of two area, Sai-in West precinct and To-in East precinct.
Erected during the late 7th century Sai-in West precinct has the temple compound with oldest wooden buildings in the world, such as the Main hall and Five story Pagoda.
To-in, East precinct was built by Prince Shotoku in 601 as Shotoku's residence until he died in 622.
But after the fire To-in was left deserted until around 739 when the the monk built Yumedono, Hall of Dream to pray for Prince Shotoku's soul.
Both precincts have important temple buildings and Buddhist statues from Asuka period to the Edo period.
Horyu- ji is treasure house of Japanese art and repository of early Buddhist works of art.
Nandai mon gate
Nandai mon main gate sustained by eight pine trees pillar leads to the Horyuji Temple.
Burned down by fire in 1435, but Nandai mon was rebuilt in 1438.
The gate features flower shaped bracket arms and carved head rail.
Chu mon gate
Chumon Middle Gate is the entrane to the inner temple area where Five story pagoda and Main Hall are located. A pair of fierce guardian deities Kongo Rikishi Nio standing at both sides to protect the temple.
You can find two entrances standing side by side within the Chumon gate. The entrance is said to reflect the position of the Main Hall and the Five story Pagoda standing side by side.
This positioning is different from usual positioning of temple in those period, where the buildigs stood in a straight line, one behind the other.
A pillar placed in the middle of the gate is unusual, but is thought to be there to support the large gate.
Other features are a large overhanging eaves and clouds shaped brackets designed to support them.
Corridor
Corridor now links Bell tower on the east, Great Lecture Hall in the center and the Sutra Repository on the west.
But Corridor originally surrounded only Five Story Pagoda and Main Hall, and the Lecture Hall was out of Corridor.
People were allowed to enter Lecture hall, but not allowed to be within the corridor where was thought as sacred place.
Slightly bulged pillars in the middle is thought to be influenced by ancient Greek architecture.
But unlike entacis one third of pillar from the bottom bulge the most and get narrow upwards.   On the ceiling of corridor, how triangular crossed beams sustain the eaves can be seen.
Kondo, Main Hall
The Kondo, or Main Hall, at Horyuji Temple is the world's oldest wooden structure and houses the Shaka Sanzon seated in the center with two Budhistattva ; Yakuo and Yakujo.
Set of three bronze statues is representative masterpiece of Asuka period.
Buddha Shkyamuni is believed to be life size figure of Prince Shotoku.
In the main hall, Kondo you can learn about the story of Horyu-ji's founding. According to engrave on the halo's back of Yakushi-Nyorai Buddhist statue, Prince Shotoku's father, Emperor Yomei made a vow to build Yakushi-Nyorai Buddha statue and temple praying for his recovery from illness.
Emperor Yomei unfortunately passed away before the completion, but Prince Shotoku and Empress Suiko finished Yakushi-Nyorai Buddha and Horyu-ji temple in 607.
Artworks include the Shaka Sanzon seated in the center with two Budhistattva ; Yakuo and Yakujo.
Set of three bronze statues is representative masterpiece of Asuka period.
Buddha Shkyamuni is believed to be life size figure of Prince Shotoku. The lean to roof called mokoshi in the first story was later added as the first roof was not durable against the weight and came down.
32.5 meters high Five Story Pagoda stands to the west of the main hall. One of the oldest wooden buildings in the world, Five Story Pagoda is typical pagoda architecture of Asuka period to enshrine sacred ashes of Shakamuni, Buddha. After Shakamuni died around 2500 years ago, the bones and ashes of Shakamuni were distributed among his followers.
Five Story Pagoda was burned down in 670, but was rebuild in 711.
Looking up from below, Five Story Pagoda looks six storied.
The first roof, called Mokoshi was later added for protecting the base of Pagoda from wind and rain, so uncounted.
Yumedono, Hall of Dream – East precinct
Once the site of Ikaruga palace To-in, East precinct was built by Prince Shotoku in 601 as Shotoku's residence until he died in 622. Within To-in there's Yumedono, the Hall of Dreams which is the oldest and beautiful octagonal hall constructed by the Buddhist monk Gyoshin-Sozu in 739.
The Hall of Dreams is named after the story that golden Buddha once appeared to Shotoku Taishi in a dream.
Inside is the Guze-Kannon, a guilt wooden standing Kannnon-Bosatsu statue, another representative Asuka period sculpture and supposedly life size figure of Prince Shotoku.
Covered with a long white cloth and kept long out of sight, but finally unwrapped by the request of Ernest Fenollosa, an American art historian.
Okakura Tenshin, Japanese art critic removed the covering in 1884, since then is now displayed twice a year in spring (April 11 thru May18)and autumn (October 22 thru November 22).
Author Profile