8 Must-Buy Bento Boxes at Tokyo Station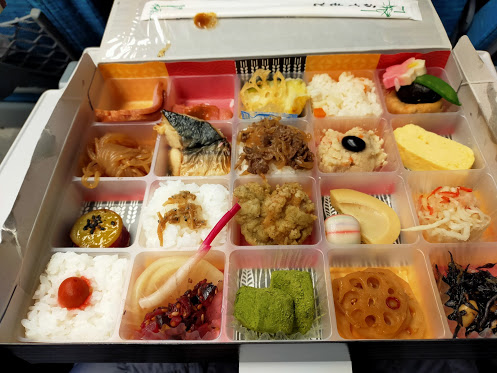 Japanese has a habit of buying lunch box during trip on Shinkansen, bullet train and other trains. Tokyo st.is the nice place to buy various kinds of Bento box. The article introduces the area where you can buy Bento box in Tokyo st.,and the recommended lunch box. Why don't you try to find nice bento box for your memorable trip?
Where to Get the Best Bento Box in Tokyo Station
For those who want to buy Bento box in Tokyo sta., the article suggests three areas where you can buy the best bento box.
Ekibenya Matsuri(駅弁屋 祭)
Located at Central passage near Yaesu Exit central ticket gate of Tokyo st, Ekibenya Matsuri is very accessible and convenient. Near from transfer gate of railroad line and Shinkansen bullet train, Ekibenya Matsuri collects over 200 kinds of Bento from nationwide and sells them.
GRANSTA(グランスタ)
Located within wicket, spreading from Maruno uchi central exit underground thru Yaesu central exit underground. GRANSTA is near to Gin no Suzu Hiroba, Siver bell open space, so accessible when you go there.
Daimaru
Daimaru is directly connected to Tokyo st., and so accessible. Daimaru Tokyo, Food court in basement floor is said to be the biggest depa chika (department basement), considering its wideness and the number of shops. Well known for its Lunch box street spreading 60 meters in total Daimaru sells not only lunch box, but also bread and sweets.
Classic Bento Box in Tokyo Station
The article introduces classic Bento Box whose ingredients have been familiar to Japanese, like shumai, Iberico pork, beef and fried chicken.
Tokyo Bento / JR East Foods
Bento packed with traditional dishes in Tokyo like
Asakusa Imahan's Beef & bamboo shoot
Tsukiji Sushitama Aoki's omelet and etc
Bento is richly flavored to eat delicious even when cold.
Price : around 1850 yen
Where to buy : Ekibenya Matsuri
Shumai Bento / Kiyoken(シウマイ弁当 / 崎陽軒)
Box lunch sold at Yokohama st.
It is made under the motto "delicious even cold", so excellent lunch box for long journey by Shinkansen bullet train. It includes 8 rice balls, 5 shumai and deep-fried chicken and egg omelet.
Price : around 860yen
Gransta Tokyo
Iberico Pork Bento / eashion(イベリコ豚重 / eashion)
Box lunch continually in No.1 demand
Iberico Pork Bento is Butadon, rice with pork and vegetables which you can taste bellota Iberico pork made in Spain. Bellota is one of the best brand Iberico pork which was bred eating acorns.
Price : around 1100yen
Where to buy : Gransta Tokyo
Gyu-Niku ju / Matsukawa Bento-Ten
The shop founded in 1899 and located in Yonezawa city
Bento lunch in which was beef baked quickly over high heat and stewed in tamari rich soy sauce with onion. Well blended with salty sweet soy sauce, Gyu-Niku ju goes well with Sake.
Price : 1150yen
Where to buy : Ekibenya Matsuri
Nagomi Karatto Bento / Tamahide
Popular Ekiben supervised by Tamahide, prestige stores in NIngyocho in Tokyo
Once fried and then baked, Chicken is crispy even after a while cooked. Each fried chicken is big, so more filling than actually.
Price : around 950yen
Where to buy : Diamaru Tokyo B1F
Photogenic Bento Box in Tokyo Station
The article introduces colorful,  photogenic and instagramable bento box in Tokyo St.
Hipparidako Meshi / Awajiya
Popular Box lunch sold on a train or at a station and exceeded the sales number 12 million from stating in 1998. In the Octopus trap shaped pottery ingredients like octopus, see eel and seasonal vegetables are put in.
Price : 1080yen
Where to buy : Ekibenya Matsuri
Zeitaku Millefeuille / Takimoto
Rice bowl topped with 10 kinds of seafood like salmon roe, crab and salmon. Rice and ingredients are lied each other like mille feuille and photogenic and beautiful.
Price : 1728 yen
Where to buy : Daimaru Tokyo B1F
Fukuneko Bento / Ranmaru
Kitten shaped Bento
Bento box is designed with different cats, rice and dishes depending on kinds of Bento. Kitty shaped Bento box can be reused and used as your own Bento box.
Price : around 1650 yen
Where to Buy : Daimaru Tokyo B1F
Author Profile