Tsukiji Fish Market, Tokyo
The Brief History of Tsukiji Fish Market in Tokyo
Opened in 1935 Tsukiji Fish Market has the oldest history of 11 Tokyo Central Wholesale Markets. Tsukiji Fish Market used to be the whole market where fish and vegetables were sold. Especially the volume of fish sales was one of the largest in the world.
The inner market of Tsukiji fish market moved to Toyosu in 2018. The inner market was a part of Tokyo Central Wholesale Market where the professional buyers bought fish for the trade.
Why did Tsukiji inner market move to Toyosu area?
Tsukiji fish market has become old since it opened over 80years before.
The sanitary condition is difficult to maintain because it is the open floor.
The work space is small with old facility.
Tsukiji fish market hasn't been completely closed and outer market is still open and popular among the travelers as sight-seeing spot.
Must Know About the Tsukiji Outer Market
Must Know About the Tsukiji Outer Market covers what Tsukiji outer market is, when the travelers should visit there, and how to go there.
What is the Tsukiji outer market in Tokyo?
Stretching from Chuo ward Tsukiji 4 chome to 6 chome, the wholesale district is 400m in length and 120m in width.
The whole sale district is lined with 400 shops like; Sushi, sea food, western food, rahmen noodle restaurants, and shops where the buyers buy high quality goods like cooking utensil, tableware and kitchen knife.
Some shops have English menu and English speaking staff are available.
Visit the market during 9am〜2pm
Tsukiji fish market opens from around 5:00am to 3:00pm.
As professional buyers arrive and start to buy before 9am it is recommendable for the travelers to visit from 9am to 2pm for shopping and sight seeing purpose.
The most of stores are closed on Wednesday and Sunday
Regular closing day : Wednesdays and Sundays, however one third of shops is open.
Train is the best way to get to the market
Location : 1min walk from Toei Oedo line Tsukiji Market st. Exit A1
1min walk from Tokyo metro Hibiya line Tsukiji sta Exit1,2
5min walk from Higashi Ginza sta. Exit 5,6
Related Post
Tokyo highlights, Imperial palace, Kiyosumi garden, Edo Tokyo museum, Tsukiji
Top 5 recommended Restaurants in Tsukiji Outer Market
Top 5 recommended Restaurants in Tsukiji Outer Market introduce 5 restaurants where you can eat fish in various style at Tsukiji outer market.

 Maguroya Kurogin (まぐろや 黒銀 築地本店)
Maguroya Kurogin is a special restaurant for bluefin tuna, where you can eat rare cuts of tuna like cheek meat and fatty tuna.
Popular menu item is fatty tuna sushi of which flavor spreads in the mouse when you put into the mouth.
Sushi is usually served with wasabi, but if you don't like wasabi you can order sushi without wasabi.
You should visit soon after open of fish market since some parts may be sold out in the afternoon.
URL : https://retty.me/area/PRE13/ARE2/SUB204/100000036041/
Opens : 8:00am – 3:00pm on Monday-Friday
8:00am – 3:30pm on Saturday
8:00am – 2:00pm on Sunday
No regular closing days
No2. Saito Suisan(斉藤水産)
You can eat fresh fish and sea foods on the spot. Recommended sea food is rare oyster as the best oysters are stocked from nationwide, and the best oysters can be eaten all the seasons in Saito Suisan.
You can taste oyster on oyster hopping.
URL : https://tabelog.com/tokyo/A1313/A131301/13147413/
Opens : 6:00am-5:00pm
No regular closing day
Tsukiji Donburi Ichiba(築地 どんぶり市場)
Tsukiji Donburi Ichiba is special restaurant for voluminous rice bowl topped with fresh seafood.
The small restaurant with only 6 seats at counter is ornamented with signatures of celebrities.
When it comes to Kaisen-don, it has image of high price. Tsukiji Donburi Ichiba serves affordable Kaisen don, rice bowl topped with fresh seafood at around 1000yen.
Popular menu is Steak Don, rice bowl topped with Tuna cheek meat.
URL : http://ww1.tsukiji-monzeki.com/
Opens : 5:00am-3:00pm on Wednesday to Saturday, 24hours on operation
Regular closing day : Only January 1st.
No4. Tsukiji Shoro(つきぢ松露)
Used to be Sushi shop, Tsukiji Shoro changed into the omelet shop as the omelet cooked by landlady has become popular among locals.
Not only plain omelet but omelet using ume (plum), sakura shrimp, cayenne pepper powder can be eaten.
If you want to eat on the spot Shoro sandwich is recommendable.
Omelet is sandwiched between breads, flavored with mayonnaise.
Shoro sandwich is voluminous and suitable for breakfast, too.
URL : http://www.shouro.co.jp/
Opens : 4:00am – 3:00pm on Monday-Saturday
9:00am – 3:00pm on Sunday, holiday and closing day on market
No5. Haibara Tsukiji(はいばら 築地2号店)
Haibara Tsukiji is restaurant where the visitors can enjoy domestic eel and exquisite rice bowl topped with grilled eel for 2500yen.
Haibara Tsukiji serves soft and fluffy baked eel at reasonable price in spacious room with 80 seats where you can be relaxed.
URL : http://unagi-haibara.com/
Opens : 10:00am – 2:00pm
Regular closing day : Sunday, holiday
Related Post
World famous fish markets and sushi
Visit Toyosu Fish Market for the Tuna Auction Observation
If you want to see the Tuna Auction you should visit Toyosu fish market where Tsukiji, Tokyo Central Wholesale Market moved to.
Tuna auction is must see experience.
It is a magnificent view to see hundreds of Tuna lined in front of you.
Once the auction starts the buyer shows the desired price by hand sign called "teyari".
Then the buyer who offers the highest price makes a successful bid.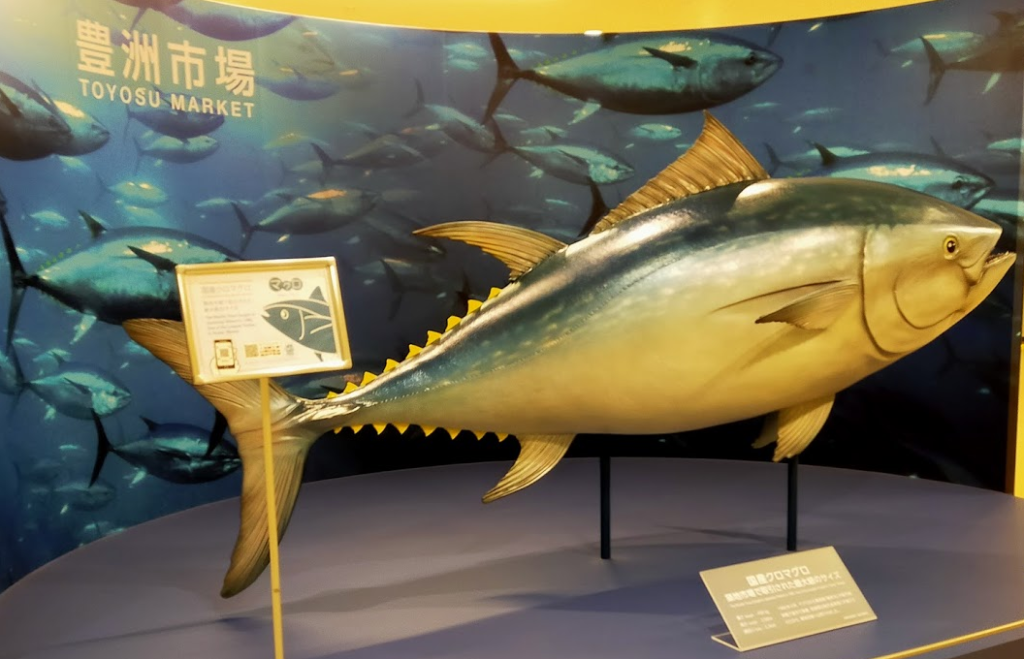 It is worth to see several tens of thousands to millions of tunas are knocked down one by one.
The morning auction starts at 5:30 am and ends up at 6:30am.
Anyone can have a look from the 2nd floor's visitor passage of Fisheries wholesale ridge.
From observation deck (application necessary in advance and on lottery system) you can see closer.
After the auction you can enjoy the first class taste in restaurant quarter.
39 restaurants such as Sushis, Tonkatsu, western style dish and curry and rice have moved to Toyosu fish market.
Location : Yurikamome line "Shijo-mae" station.
Opens for public tours and eating : 5:00am – 3:00pm
Regular closing day : usually Sundays and Wednesdays
Related Post
Author Profile