Historic Riverside Town near Narita Airport : SAWARA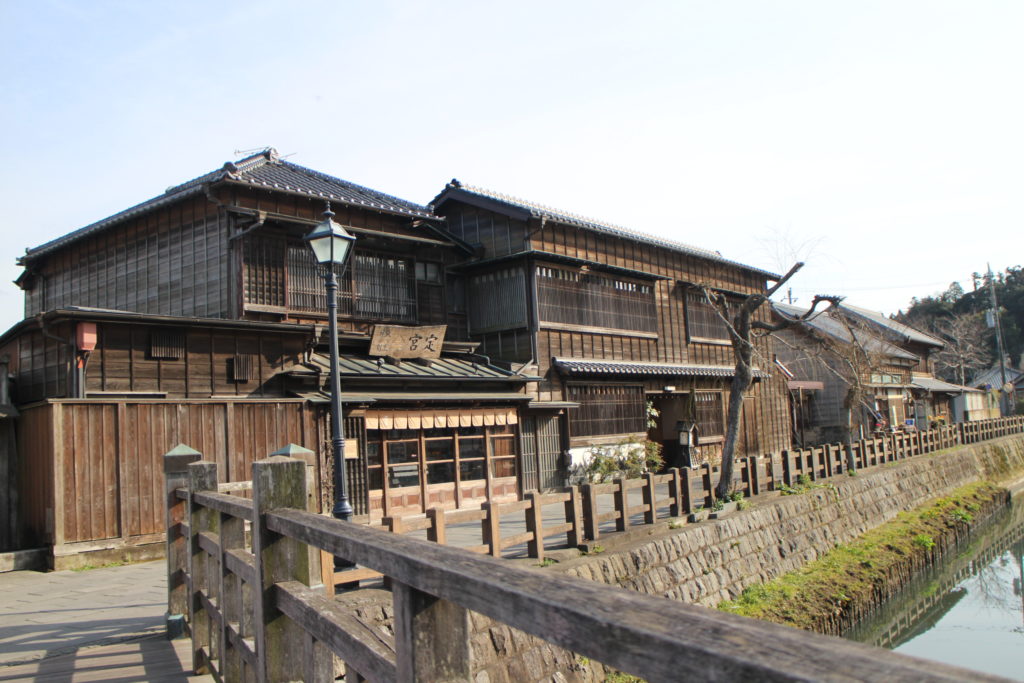 If you have half day layover at Narita airport, historic river town, SAWARA is ideal place to visit by local train. Sawara st. is located about 45 min from Narita air port terminal 1 st.
In Edo period Sawara flourished as an important transportation point of rivers Tone and Ono crossing. Still now the town is well preserved retaining nostalgic atmosphere and you can travel back in time to Edo era. The district has been added to Japan Heritage site, and also listed in Michelin Green Guide since more and more travelers visit here from overseas.
Sawara station
When you arrive at Sawara st.designed to be traditional Japanese architecture in the image of historic riverside town, you should check the time schedule to be back to Narita Airport, as there is only service per hour.
In front of station there stands a statue of Tadataka Ino, a legend who lived in this district over 30yrs and completed the first map of Japan in his latter life.
History of Sawara
In order to protect Edo (now Tokyo) from flooding, Tokugawa government changed the course of Tone river. Since then many ships came up Tone river down to Edo river carrying rice and commodity to the center of Edo such as Kuramae, Nihon-bashi. Along with commodity more and more people came here, so that people would say "If you want to see Edo visit Sawara. Since Sawara is much more livelier than Edo."
Statue of Tadataka Ino
After Sawara station go straight to the west and pass thru a big torii gate. Then at right hand you can find the statue of Tadataka Ino in Sawara park again.
He is the hero of this district!!
Suwa Shrine
Near the park is Suwa Shrine where many locals visit on new year's days, various family events, praying for their good health and happiness. The autumn festival is held here for 3 days in Oct.
Walk through under the torii gate and go up 128 stone steps to reach the main hall.
Sake Brewery, Sawara
Go until a dead end of the road in residential area, and turn left to find Sake breweries on the street.
Taking advantage of riverside transportation and good quality rice product there were 35 sake breweries during Edo period. The 2nd biggest was Inoh family's from whom Tadataka Inoh is.
Now there remain only two sake breweries, "Tokun" and "Baba Honten".
Tokun Sake Brewery
Tokun brewery has 190 year's history and the founder of Tokun was apprentice of Inoh family and learned about sake trade. Tokun has a guided tour in Sake brewery every day.
Time schedule is as below:
10:00 10:30 11:00 11:30
13:00 13:30 14:00 14:30 15:00 15:30
After tour free sake tasting is available.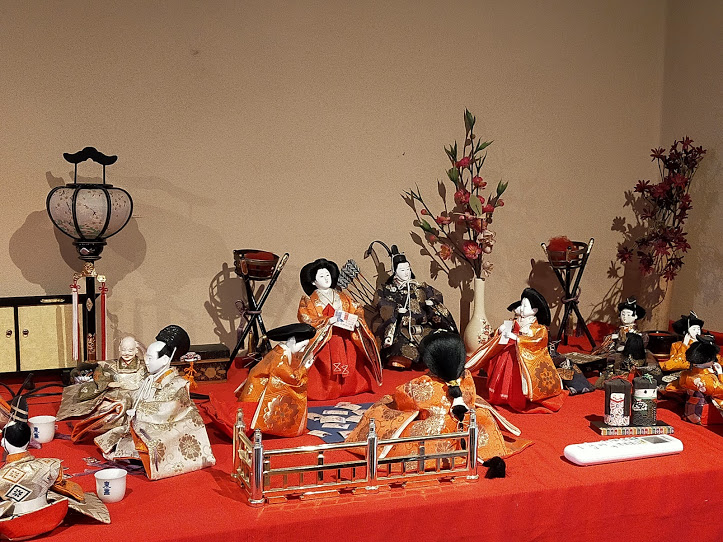 Baba Honten Sake brewery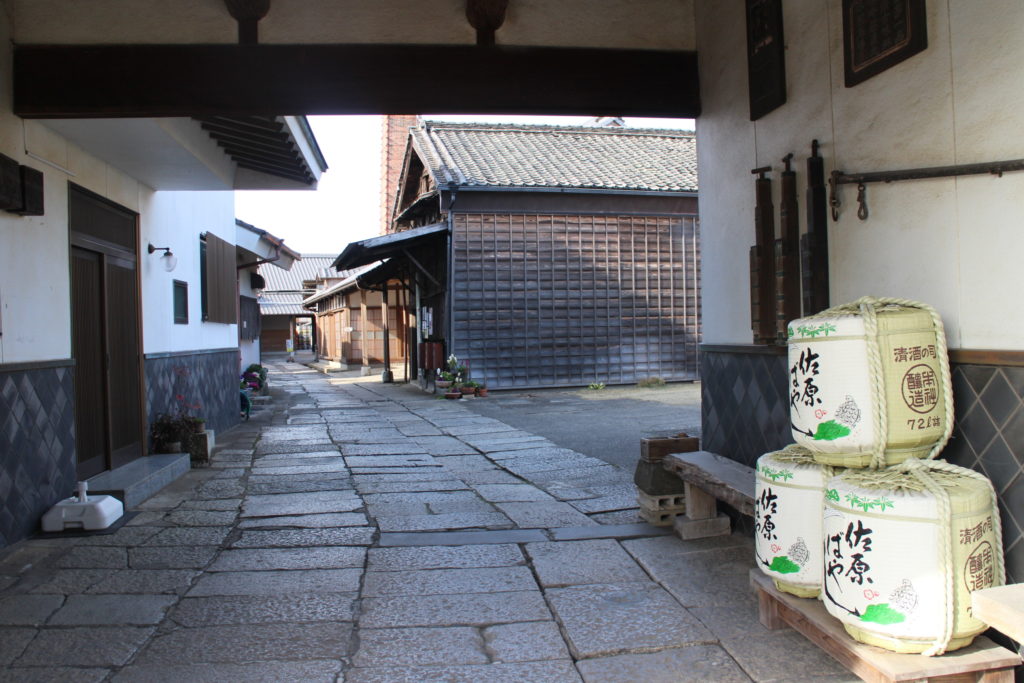 Baba Honten brewery started as maltster and has 300 year's history and now produces Sake, sweet sake as seasoning essential for Japanese cuisine. Photos of traditional preparation of Sake and tools such as vat for making sake are displayed inside.
Street lined with Japanese traditional houses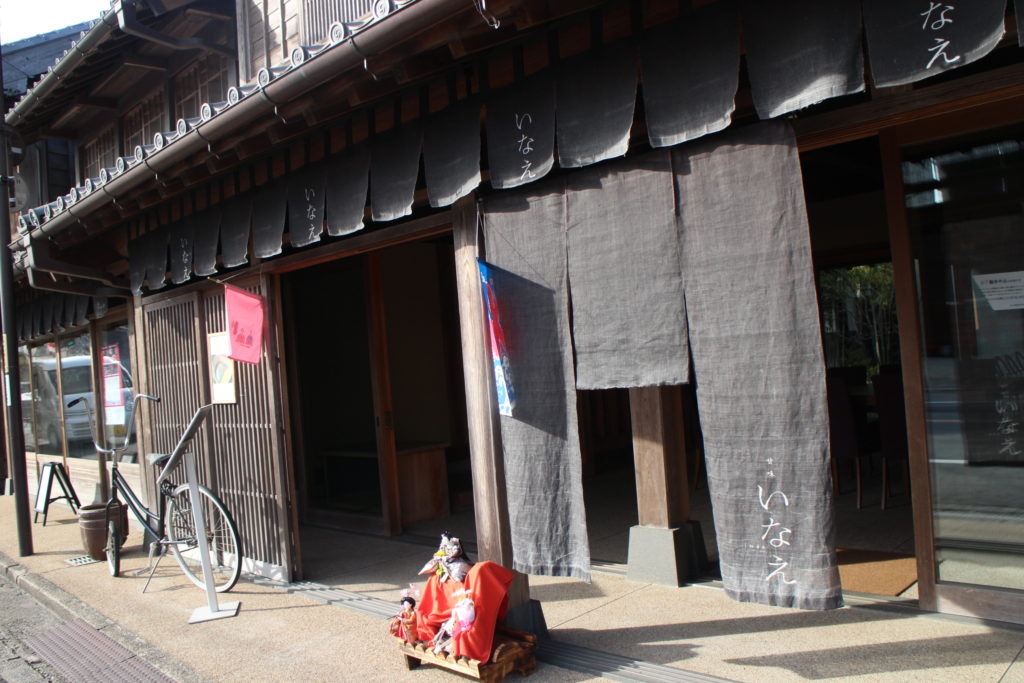 It's fun to walk along the street seeing well preserved traditional old houses running shops. There is a custom of displaying girl's festival dolls in front of houses from early Feb to end of Mar.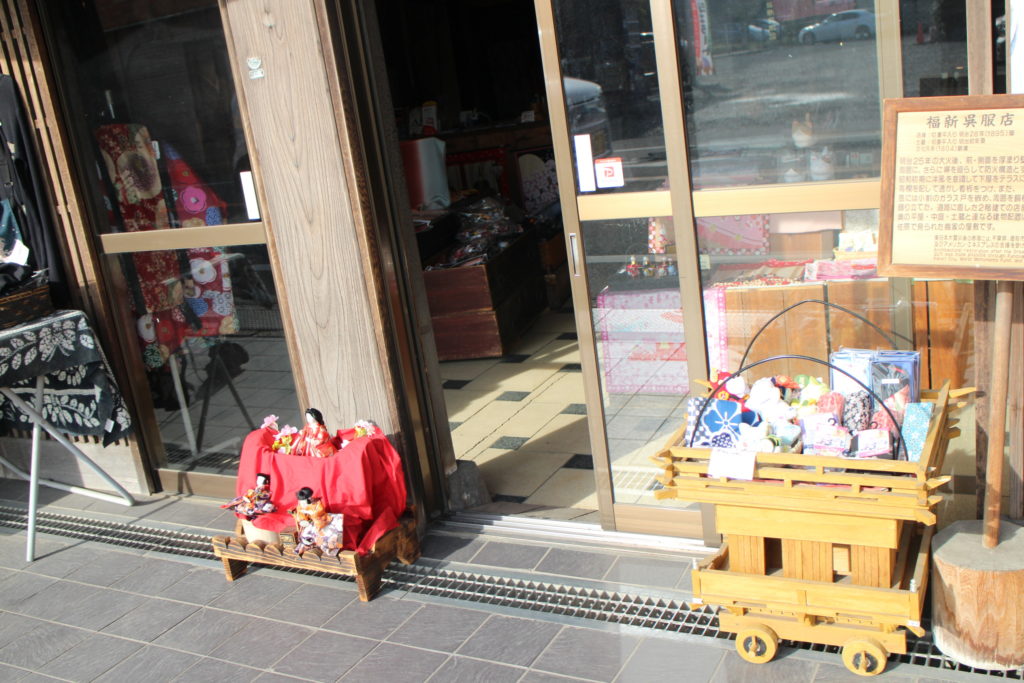 Ono Riverside Scenery
In front you will see a bridge crossing above Ono river. Stand on the bridge and you can see a nostalgic scenery lined with weeping willows along the river, cherry blossoms in spring.
Along the stream there are many traditional old houses running craftsman shops selling glass works, ice cream shop, sushi, fish cuisine, soba noodle restaurants, café and others. Baked eel with sweet soy sauce is specialty here in Sawara.
Ja Ja Bridge
The interesting way to see the historic landscape is by Boat. You can experience a different view from the boat. Boating dock is at Toyo bridge which has another name, Jaja bridge because the water runs down making noise "Jaja" every 30 minutes.
There used to be a large gutter to let the water for farming. Then the bridge was placed on the gutter to cross the river and the water run down from both sides of bridge making noise, "ja ja" This is the origin of the name. Sounds remind us good old days.
Rent a bicycle
At two minutes from the station Sawara, there is Tour information center where you can get the map and rent a bicycle.
500 yen (regular bicycle); 700 yen (electric bicycle)
Until you taste sake, cycling is good way to go around.
Boat cruise on Ono River
Boat starts at Toyo bridge every 30 min.
10AM-4PM(Apr); 10AM-4:30PM (May-Sep); 10AM-3PM(Oct.-Mar.)
1300 yen (adults); 700(elementary school children)
Sawara festival
Sawara Grand Festival has a 300 year history and is known for japan's highest (roughly 4meters high) figurines carried on floats.
Summer festival held in Yasaka shrine for 3 days on Friday, Saturday and Sunday after Jul 10th.
Autumn festival held in Suwa shrine for 3 days on second Fri.Sat.Sun in Oct.
Iris festival held at Iris park (end of May-end of June)
1.5million irises of 400 varieties in full bloom.
800 yen for adults; 700yen for 65yo over; 400 yen for elementary & junior high
Author Profile