11 Things To Do in Asakusa That You Wouldn't Miss
Asakusa is one of the most popular tourist spots in Tokyo, famous for its Sensoji temple, Kaminarimon Gate, Big lantern, Nakamise dori shopping street… But they are not all that you can see in Asakusa.
This article lists 11 amazing spots and things you would not miss.
Things to Do in Asakusa | Classic Place
Sensoji Temple and Nakamise Dori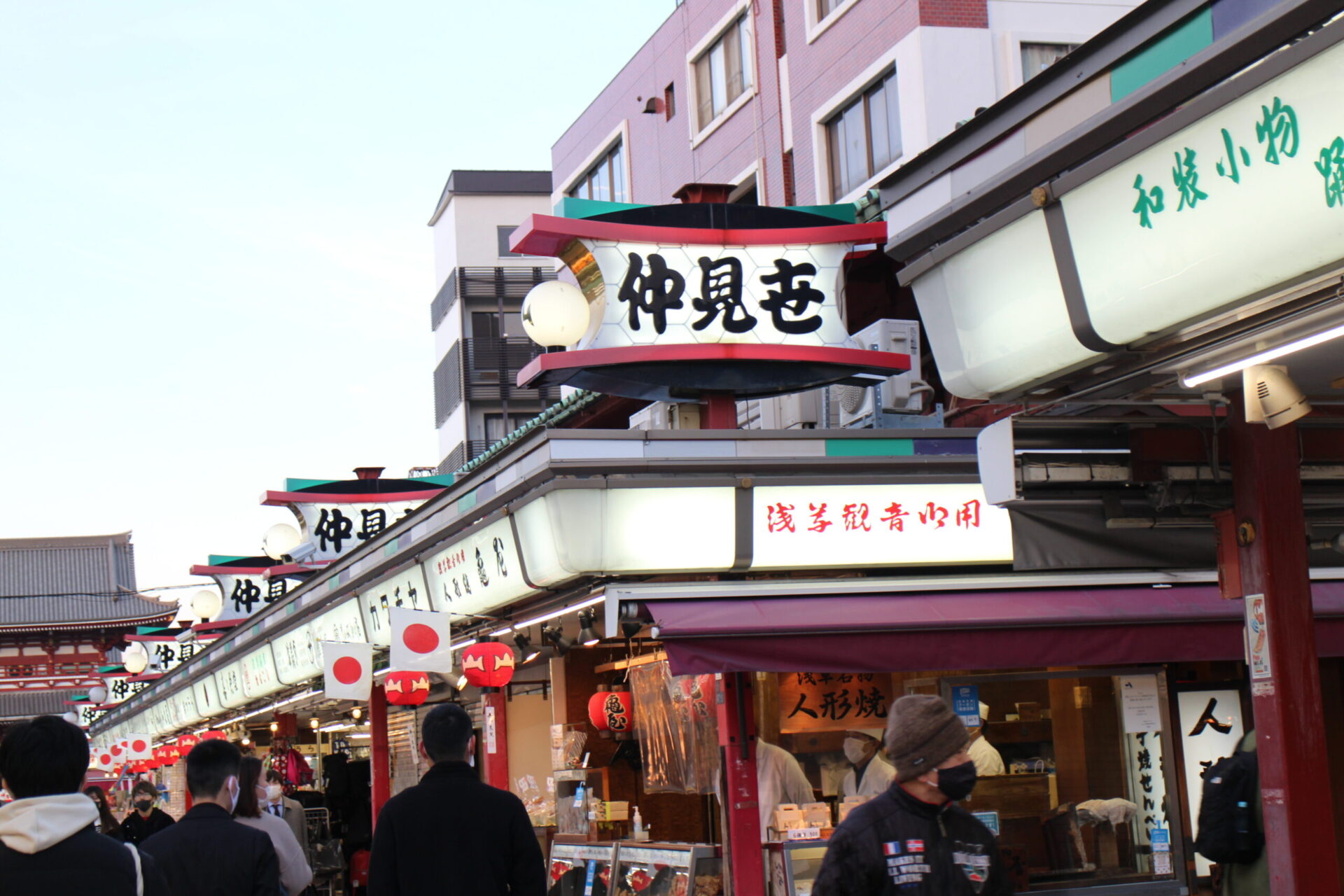 Founded in 628 Sensoji temple is the oldest temple in Tokyo and very familiar to local people as Asakusa Kananon Bodhisatva.
30 million worshippers visit Sensoji temple every year.
The main gate is Kaminari mon or Thunder gate, well known for its big red lantern.
Created during the feudal age, Nakamise dori is the oldest shopping street in Tokyo and lined with around 90 shops and restaurants, where you can enjoy various street food and shopping Japanese souvenirs for your family and friends.
What we recommend here is Ningyo yaki or baked doughnuts with red bean paste filling.
They are shaped like pigeons, five-storied pagodas, and lanterns.
The area from the Thunder gate through Sensoji temple has been lit up from the sunset to 11:00 pm since 2003.
It creates a fantastic night view with very little people while Sensoji temple is very crowded with tourists and worshippers during daytime.
The main hall is closed at night, but you can challenge fortune telling available during night.
Five-min walk from Tokyo Metro Ginza line Asakusa station
〈Related Article〉Asakusa Sensoji Temple
Related Post
Tokyo highlights, Meiji shrine, Asakusa, Ueno & Tokyo National Museum
Matsuchiyama Shoten
Located around 15 min walk from the Kaminarimon Gate, Matsuchiyama Shoten or Honryuin temple is a sub temple of Sensoji temple.
Founded in 595, Matsuchiyama Shoten has been worshipped by local people for a long time, and very often depicted in many ukiyoe or wood block printing.
Interestingly offerings of Matsuchiyama Shoten are daikon white radish and lots of radish motifs can be seen on lanterns, under roof and other places in Matsuchiyama Shoten .
Why radish? Radish neutralizes toxin in human body, so radish is regarded as a symbol of physical, mental health and longevity.
24 hours after being offered to Matsuchiyama Shoten temple, radishes are given to pilgrims, then make them healthy and happy.
The radish festival is held on January 7th every year, when cooked radishes are served with sake to worshippers.
10-minute walk from Tokyo Metro Ginza line Asakusa station
Cherry Blossom highlights, Hamarikyu garden, Asakusa, Meiji shrine
Dempo-in Dori
Dempo-in Dori is a street crossing across Nakamise Dori shopping street having the Edo period atmosphere (the feudal age in 17-19 C).
Around 200 meters long Dempo-in Dori is lined with various shops and restaurants.
Amazingly when the shops close Ukiyoe or wood block printing motifs come out on the shutter.
On Dempo-in Dori street you can find five figures of kabuki characters, each in different place like on roof, wall or in the center of street.
Why not challenge to find all ?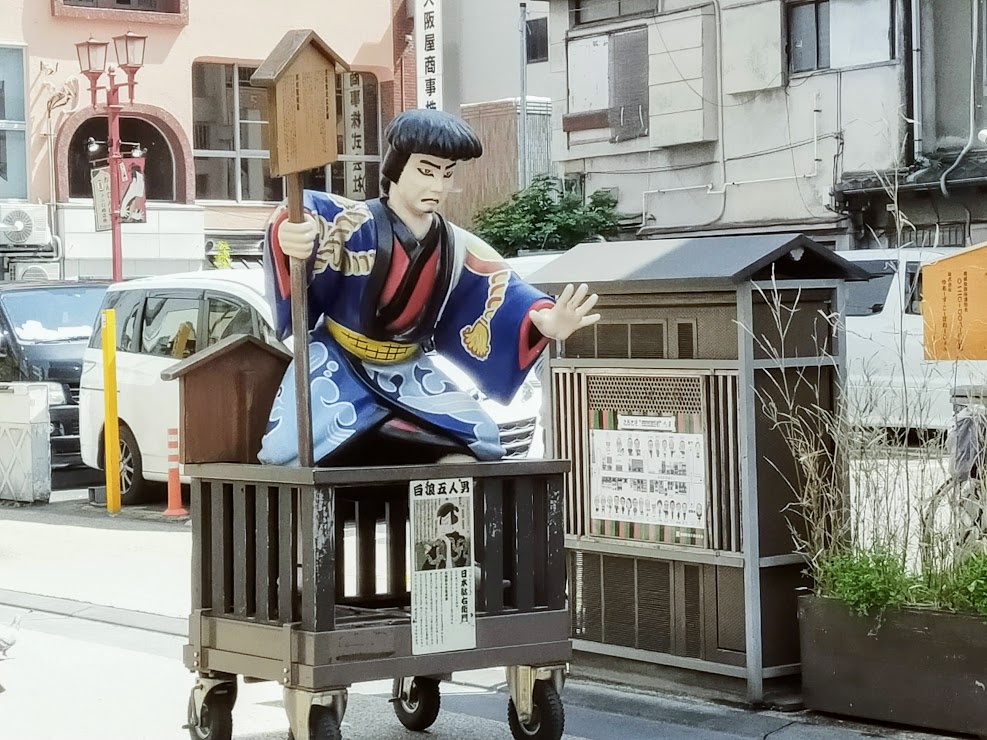 The main temple of Sensoji named "Dempo-in" is designated as an important cultural property of the nation.
Dempo-in temple was residence of the main priest of Sensoji temple and the praying place for Tokugawa shogun family.
Buddhist memorial tablets of Tokugawa shoguns and priests of Sensoji temple are kept in the guest hall.
Dempo-in's Japanese garden is designated as a national scenic beauty.
Dempo-in is opened to the public on an irregular basis, so if it's open during your stay don't miss visiting.

Related Post
Tokyo Highlights, Asakusa, Ueno, Yanaka & Nippori Fabric Town
Sumida Park
Sumida Park is located on both sides of Sumida river running in Tokyo.
Lots of cherry blossoms beautifully bloom on both sides in spring and cherry blossom festival is held every year.
Planted with more than 1000 cherry trees on both sides, Sumida park is one of the most popular cherry blossom viewing spots in Tokyo.
After the sunset cherry blossoms are lit up, so the visitors can enjoy fantastic spring night view reflecting pink river side planted with Cherry blossoms.
Located in the east side of the park is old Ushijima shrine founded in 860.
Ushijima shrine is recommended spot for taking photo of Tokyo Sky tree thru the Torii gate.
Related Post
Cherry Blossom Highlights, Asakusa, Ueno & Meiji shrine
Asahi Beer Hall
Out of Asakusa station you can find Golden object toward Sumida river.
What is the golden object ?
Built by Asahi Beer company, the golden object is said to be the golden flame in the image of burning passion of Asahi Beer employees, and called "la Flamme d'Or" in French.
The next Gold building is the head quarter of Asahi Beer in the shape of Beer Mug.
The building with the object is Super Dry Hall.
On the 1st floor there are the hall exhibiting Asahi Brewery's history and the beer restaurant where directly delivered from the factory and quality controlled Super Dry draft Beer is served for the visitors.
Around three min walk from Tokyo Metro Asakusa station Exit 4.
Related Post
Cherry Blossom Highlights, Asakusa, Ueno, Yanaka & Nippori Fabric Town
Things to Do in Asakusa | Unique Activity
The article introduces some unique activity you should try during your trip in Asakusa.
Sumida River Cruising
To feel cool breeze or view cherry blossoms in full bloom, why don't you hop on the boat from Asakusa cruise terminal ?
There are three courses from Asakusa to Hamarikyu Garden, Hinode peer, and Odaiba. On board, you can enjoy various kinds of bridges like Azuma bridge and Kiyosu bridge having different color and shape.
There are seasonal event like cherry blossom viewing cruise and X'mas cruise.
On cherry blossom cruise you can view beautiful cherry blossoms lined along Sumida river.
Sumida River Cruise is fascinating to view changing sceneries of Tokyo while listening to the onboard guide. Beverages including beer and some refreshments are available.
One-min walk from Tokyo Metro Ginza line Asakusa station.
URL : https://www.suijobus.co.jp/en/
Ride on Rickshaw
Rickshaw driver who knows everything about Asakusa makes a highlight tour in a short time.
You can discover the charm of Asakusa including history and culture the first visitor shall not know.
Why don't you ride on a comfortable and relaxing Rickshaw feeling breeze and Asakusa's atmosphere ?
You may find hidden Gems in Asakusa.
Asakusa Jidaiya
Accessible from Kaminarimon Gate or the Thunder Gate.
Baggage keeping system is available.
Price: 9000 yen for 30 minutes / two persons
Three min walk from Tokyo Metro Asakusa station Exit 2.
URL: https://jidaiya.biz/index-e.html 
Related Post
Cherry Blossom highlight, Asakusa, Ueno, Imperial palace & Tsukiji fish market
〈Related article : Asakusa, Sensoji temple 〉
Things to Do in Asakusa | Satisfy Your Playful Minds
Around Asakusa, there are lots of attractions besides Sensoji temple and Kaminarimon Gate.
Tokyo Skytree
Completed in 2012, Tokyo Skytree is the world highest broadcasting tower with the height of 634 meters.
Tokyo Skytree is twice height of Tokyo tower, having two observation decks at 350 m and 450 m.
From the second observation deck at 350m, you can enjoy full view of Tokyo and surrounding cities, and on fine weather Mt. Fuji can be seen (mostly in winter).
Price* (upper and lower deck): 18 years old or over 3100 yen
12-17 years old 2350 yen
6-11 years old 1450 yen
*Same day tickets on week days
Tickets are also available on the Internet.
Opens: from 8:00 am to 10:00 pm
URL: http://www.tokyo-skytree.jp/en/
〈Related Article〉Tokyo Sky Tree
Sumida Aquarium
Located at foot of Tokyo Skytree, Sumida aquarium is not large but popular aquarium where the visitors can observe various aquatic creatures up close and learn about their ecology in detail.
The highlight is one of the world largest indoor open pool filled with 350 tons of water, where lots of Magellanic penguins freely swim and walk.
The lighting changes corresponding to the changing period of time in a day.
During the daytime, you can see penguins swimming actively under the brightness near to the natural light, then at night penguins sleep in a dim light.
"Aqua Labo" exhibits the growing process of jelly fish who was born in the Sumida Aquarium, where the visitors can actually see how jelly fish grow.
Admission: Adults 2300 yen
High school students: 1700 yen
Elementary and junior high school students: 1100 yen
Infants from 3 years old: 700 yen
Opens: 10:00 am to 8:00 pm on week days
9:00 am to 9:00 pm on holidays
No days off
URL: https://www.sumida-aquarium.com/en/index.html

〈Related article : Tokyo Skytree〉
Hanayashiki
Opened in 1853 during the Edo period, Hanayashiki is Japan's oldest amusement park filled with retro attractions and facilities.
Especially the oldest wooden roller coaster is very popular for its thrilling performance, though the maximum speed is only 42 km/h.
Not only old attractions, nowadays Hanayashiki has up to date solving riddles attractions and the photogenic illumination.
Three-min walk from Tsukuba Express Asakusa station
URL: https://www.hanayashiki.net/en
Kappabashi
If you are interested in cooking and like potteries and kitchen items, Kappabashi shopping street is a must place to go.
Kappabashi shopping street is lined with lots of whole sale stores selling utensils and tableware for the business and also individual.
The most interesting thing is plastic food.
There are several food sample shops in this street, where various fake foods really look like real.
Ganso Shokuhin Sample-ya
At the entrance, a big hamburger with one meter height will catch your eyes. Lots of other fake food inside the shop also are fun to see.
In addition, Ganso Shokuhin Sample-ya offers plastic food making experience where you can make your own tempura or other food with plastic.
5 min from Tsukuba Express Asakusa station Exit A2
URL: https://www.ganso-sample.com/en/
〈Related article : Kappabashi 〉
Tokyo Highlights at Your Pace Asakusa
Author Profile