8 Cute Photogenic Food and Cafe in Tokyo
Japan has image of Cute and Kawaii fashion and culture.
Not only so, but Tokyo has a lot of Kawaii cute foods. 8 Cute Photogenic Food and Cafe in Tokyo introduces photogenic instagramable food, kawaii café and will make you ache to try and take photo.
Visit 8 Cute Photogenic Food and Cafe in Tokyo to find Kawaii foods and cafe during stay in Tokyo.
Introduce Cute Street Food and Where to Find it in Tokyo
Harajuku is center for its kawaii cute fashion and culture.
8 Cute Photogenic Food and Cafe in Tokyo introduces kawaii photogenic street sweets of two shops in Harajuku and one in Nakano.
Nakano is another spot of pop culture like manga, figure, and cosplay.
Create Your Original Cute One | Eddy's Ice Cream
Eddy's Ice Cream has two patterns of order : one is to choose a set of ice cream and toppings; another is to choose toppings on ice cream from a lot of options, so you can customize your original ice cream.
Pink colored exterior and interior are cute, kawaii space where there are photogenic gadgets inside.
You can find each different Sanrio character ice cream each month.
Location : 321 m from Tokyo Metro Fukutoshin line / Chiyoda line Meiji Jingumae station
Opens : 11:00 am to 8:00 pm
No regular closing day
Huge Cotton Candy | Totti Candy Factory
In the middle of Takeshita Dori shopping street, you may see families, kids and young ladies cheerfully taking picture with a very large colorful cotton candy in their hands.
Tricolor cotton candy is three times bigger than your face, having three different flavors, so you can enjoy till the last bite. It would be fun to see the shop ladies making cotton candy in front of you on the 2nd floor.
URL : http://www.totticandy.com/news/
Location : 179m from Harajuku st.
Opens : 11:00 am to 8:00 pm on weekdays
10:00 am to 8:00 pm on weekends and public holidays.
No regular closing day
Related Post
Cherry Blossom highlights, Hamarikyu garden, Asakusa, Meiji shrine
8 Color Softcream | Daily Chiko
Daily Chiko's ice cream is surprisingly 40-cm-long, eight-different colored.
Nakano is center of pop culture like manga, figure, and cosplay. Daily Chiko is stand-up eating shop for ice cream, soba and udon noodles in Nakano Broadway. Nakano Broadway is the pop culture building constructed in 1985 having nostalgic atmosphere. You can choose one to eight flavors from 280 yen. How much do you think this eight-flavored one costs?  Only 550 yen! But how thrilling and exciting to keep balance while eating. When you take a picture, make sure to stand ice cream straight up. Daily Chiko's ice cream is made from vegetable fat, so light and fluffy than expected. 8 flavored ice cream is the longest and most photogenic, but you can choose the length.
URL : https://www.facebook.com/Dailychiko/
Location : 10 minutes walk from JR Nakano station North exit
Opens :  10:00 am to 8:00 pm every day.
No regular closing day
Related Post
Top 5 Instagram-Worthy Cafe which Serves Cute Food in Tokyo
Now, if you are tired from walking all day long, let us take a break at a very Kawaii cafe.
Here are several cafe suggestions where you can take Instagram-worthy pictures.
They are very unique, have some conception, and worthy to visit.
Shirohige's Cream Puff Factory | Setagaya
You may have seen Japanese anime films like "My Neighbor Totoro", "Spirited Away" by Hayao Miyazaki, one of the most accomplished filmmaker in the world.
This is the cafe run by a nephew of Hayao Miyazaki, producer and co-founder of Ghibli Studio.
In there, must try sweets is Totoro cream puff, faithfully reproduced Totoro shaped cream puff.
The café looks like as if the real Totoro comes out. Buy various types of Tororo changing by flavor.
Location : 5 min walk from Odakyu line Setagaya Daita station.
Opens :  10:30 am to 6:00 pm.
Regular closing day : Tuesdays, if a public holiday falls on Tuesday, closed on next Wednesday.
 Alice in a Labyrinth | Shinbashi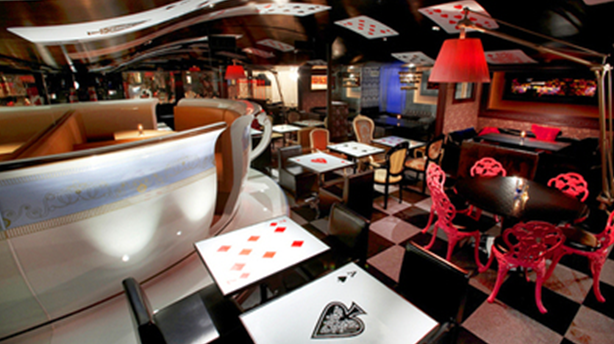 The café reproduces Alice in wonderland. Besides Shinbashi, there are seven sister cafés of the same concept in Tokyo, Osaka, Nagoya.
The café has several individual rooms and the most popular one is a half private room which is Duchess's teacup room.
It's a half private room which imitates a huge tea cup, where you can feel as if you became a dwarf.
Waitresses dressed like Alice serve you and you will be guided into Alice's Wonderland.
You must be exited with very cute and photogenic menu.
URL : http://www.alice-restaurant.com/meikyu/
Location : around five minutes walk from JR Shinbashi station Ginza exit.
Their business hours are 4:00 pm to 11:30 pm every day.
No regular closing day
Parfaiteria beL | Shibuya
Parfaiteria beL is the special Parfait cafe where you can enjoy Parfait culture at night in Hokkaido.
As you may know, Japanese people do not have habit of eating dessert after dinner.
But in Hokkaido, the northernmost island of Japan, eating sundae after dinner has become a fashion.
Parfaiteria beL has brought this culture from Hokkaido, so opens only in the evening.
Parfaiteria beL serves seasonally different sundaes and parfaits imitating princess and rose are so cute.
Exceptionally as parfait shop Parfaiteria beL has extensive lineup of alcohol which go well with sundae.
The interior is chic and comfortable for even male customers, older generations, as well as young couples and ladies.
URL : https://risotteria-gaku.net/parfait/shop-info#shop4
Location : two min walk from Keio Inokashira line Shibuya station.
Opens : 5:00 pm to 12:00 pm on Mondays to Thursdays
5:00 pm to 1:00 am on Saturdays
3:00 pm to 12:00 pm on Sundays/ public holidays
No regular closing day
Related Post
Street food and off the beaten track around Shibuya
Character Food Court | Sanrio Puroland, Tokyo
If you are a big fan of Ms Kitty, or a parent of kids who are obsessed with Twin Stars, Sanrio Land is a must place to go.
Located within Sanrio Puroland, Character Food Court is where you can enjoy various cute dishes associated with Sanrio characters.
There are lots of menu items you can get only here, like Kiddy, Gudetama, and cinnamon roll.
URL : https://en.puroland.jp/shop/
Location : 8min walk from Keio line Keio Tama Center station.
30 min walk from Shinjuku to Keio Tama Center.
Opens : 10:00 am to 5:00 pm on Mondays to Fridays,
9:00 am to 7:00 pm on weekends and public holidays.
About days off, please visit the web page:
https://www.puroland.jp/calendar/?target=seasonal
Author Profile