Best 6 Yakitori Restaurants in Tokyo – Fancy to Casual –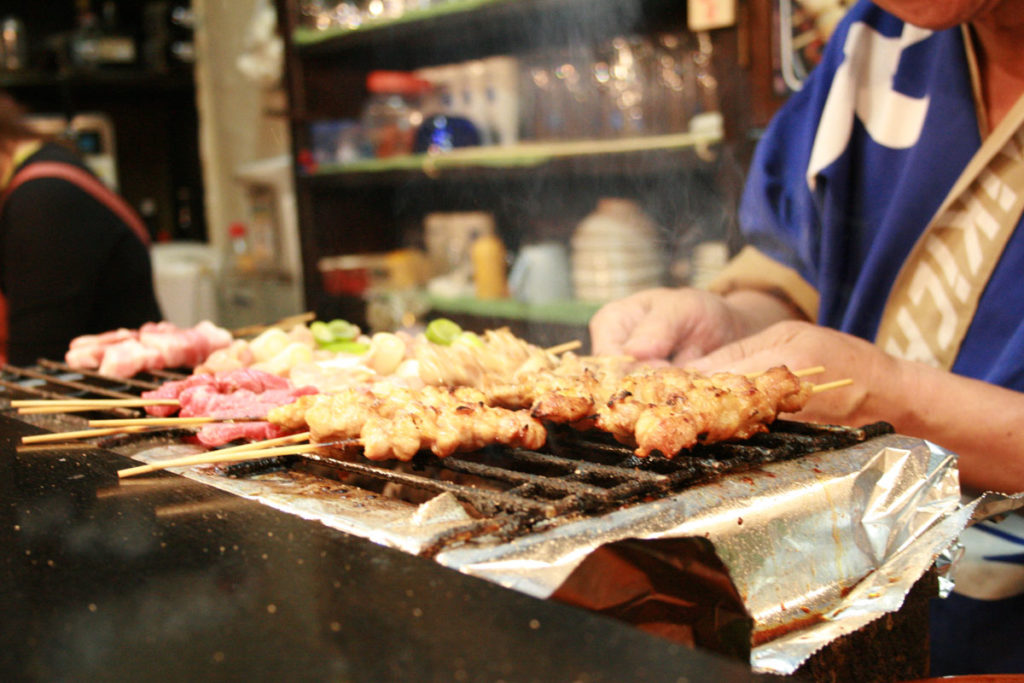 What would you expect during travel in Japan?
Many travelers love to taste Japanese food.
Yakitori may be the most popular Japanese food among foreigners.
Yakitori is skewered chicken, which can be easily eaten even if you are not familiar to chopsticks!
There are lots of kinds of yakitori, depending on the flavor, part of chicken, and how to cook.
Best 6 Yakitori Restaurants in Tokyo will introduce varieties of yakitori and difference between regular chicken and jidori, chicken peculiar to a certain region, as well as some suggestions about yakitori shops in Tokyo according to your budget.
Yakitori, One of the Best Japanese Food in Tokyo
Yakitori is one of the most popular food in Japan, which has a long long history.
In the 8th century already, grilled quails were served at court.
Yakitori has been developed as time goes by, and now, Yakitori has become one of the favorite dishes to everyone.
If you walk around a station in a business area like Shinbashi or Shinagawa after 6:00 in the evening, you can find many people drinking a glass of beer with a yakitori skewer in their hand.
Why don't you join them to grab a bite?
What is yakitori?
Yakitori is skewered grilled chicken made from bite sized pieces of chicken meat.
Yaki means grilling and tori means chicken.
Yakitori has been very popular snack and goes well with sake, shochu (typical Japanese distilled spirit), and wine.
Yakitori are usually cooked over charcoal grill and made to order.
6 popular types of yakitori
Taste of yakitori varies depending on the part of chicken.
Let's take a look at typical yakitori by each part.
1.Momo – thigh
Thigh is the most popular part among Japanese. Thick, juicy, chewier but rich taste, it goes well with traditional sake or red wine. You can choose soy sauce flavor or salt flavor.
2.Mune – breast
3.Nankotsu – cartilage
4.Seseri – neck
Meat from neck part is chewy but juicy and rich taste.
5.Hatsu – hearts
Hatsu, Heart is a bit solid, chewy in texture and rich in taste.
6.Tsukune – minced chicken
Tsukune is skewered balls or cake of minced chicken. Ingredients deffer by the restaurant. Usually served with soy sauce flavor.
Try Jidori Chicken – high quality of chicken
Jidori is high quality chicken which meets the four items specified by Japan Agricultural Standard.
Certified for having more than 50 percent of blood from traditional species.
Traditional species are defined as 38 species acknowledged as native ones before Meiji era (1868-1912).
Bred more than 75 days.
Bred in an open space farm from the age of 28 days.
Raised in a low-density farm field with less than 10 chickens per 4.1㎡ area.
Those method can breed better quality of chicken than normal ones called broiler, because they feed nutritious feedstuff and take time to grow.
The ratio of Jidori is only 10 percent out of all commercial chicken meat, and because of this rareness, their price is higher.
Good quality of jidori ensures good texture and taste.
When you bite it is watery, juicy, chewy, rich in taste, and very nutritious containing good fat, glycogen, and collagen.
Recommended Fancy Yakitori Restaurants in Tokyo
Now, you have learned much about yakitori.
So, let us go out for good yakitori.
Here are some good restaurants in Tokyo. Since it was originally served at court, let us begin with some fancy restaurants.
1.Yakitori Imai at Gaienmae
Yakitori Imai was awarded Bib Gourmant, but kind of fancy restaurant and recommended for special dinner.
Yakitori Imai only uses jidori chicken and organic vegetables.
Very good champagne, wine, and sake are served.
From all the 30 seats at the counter, you can see chefs cooking in the open kitchen.
The atmosphere of the restaurant is chic and calm, so, it is good for dating, family dinner, and business dinner.
URL : https://yakitoriimai.jp/
Six minute walk from Tokyo Metro Ginza line Gaienmae station.
Opens  5:30 pm to 9:30 pm everyday except Mondays, Sundays, and public holidays.
Price range : around 10,000 to 15,000 yen per person.
Regular closing day : Mondays, Sundays, Holidays
Related Post
Tokyo Highlights at Your Pace Harajuku
2.Ginza Birdland at Ginza
Ginza Birdland was granted one star in the Michelin Tokyo version in 2015. The chef uses only Jidori called Okukuji shamo from Ibaraki prefecture.
Two kinds of prix-fixe menus are served.
Price : around 6,300 yen for 5 dishes, 8,400 yen for 8 dishes
URL : http://ginza-birdland.sakura.ne.jp/index.html
Ginza Birdland is located one minute away from Tokyo Metro Ginza line Ginza station.
Opens :  5:00 pm to 9:30 pm everyday except Mondays, Sundays, and public holidays.
Related Post
TOP 15 Things To Do in GINZA – Shopping, Places, Restaurants
3.Shirogane Toritama at Hiro
Shirogane Toritama received Bib Gourmand.
Since they have some branches overseas, you may already know their name. Shirogane Toritama serves more than 30 kinds of parts of chicken including parts that you can taste only in this restaurant.
Shirogane Toritama is not so big and the number of seats is limited.
So, you can taste good yakitori sitting at the counter just next to local business people while casually listening to jazz music.
Price : around 6,000 to 8,000 yen
The restaurant is 10 minutes walk from Tokyo Metro Hibiya line Hiroo station.
URL : https://www.facebook.com/toritamahonkan/
Opens :  5:30 pm to 10:00 pm everyday.
*Due to several rules of COVID-19, the business hour and days off of each restaurant are subject to change. Better to contact the restaurant before you visit.
Related Post
The Ultimate Guide | 18 Recommended Things To Do in Tokyo
Affordable yet Tasty, Popular Yakitori Chain Restaurants in Tokyo
In the 18th or 19th century, yakitori was a typical snack for pilgrims and sold on approaches of shrines or temples.
After the war, yakitori has become affordable food for workers.
Now, let us take a look at affordable but tasty restaurants which are always full of customers.
1.Tori kizoku
Tori kizoku is a big chain of yakitori restaurants, very popular for its surprisingly reasonable price of 298 yen for every item!
Tori kizoku are running 626 restaurants nationwide and you can find their branch almost everywhere.
Besies 30 kinds of yakitori, they can serve various dishes.
Tori kizoku is recommended for yakitori beginners or people who want a quick dinner.
Price : around 2,000 to 3,000 yen
2.Toritetsu
Toritetsu is also very popular and affordable yakitori chain whose atmosphere is modern and chic.
Original homemade sauce is made of soy sauce from long-established soy sauce manurfacturer. Originally blended salt and miso paste from traditional manufacturers are also used.
Toritetsu use several brands of chicken originally raised for only this chain.
Toritetsu also serve organic salad and you can enjoy delicious and safe food at a reasonable price.
English menu is available in some branches.
Price range : around 2,000 to 3,000 yen
3.Akiyoshi
Akiyoshi is a yakitori chain whose head restaurant is in Fukui prefecture.
Fukui prefecture is famous for its biggest number of company presidents, so, once you open the door of this restaurant, you will become a president!
In Akiyoshi restaurant, customers are called Shacho, meaning a president.
Akiyoshi serve not only grilled chicken, but also serve grilled pork and beef. There is a hot metal plate on each table, which keeps your yakitori warm for a long time.
Each dish of yakitori consists of five smaller skewers.
Price range : around 3,000 to 4,000 yen.
* Business hours vary by branch, please contact each restaurant.
Author Profile