Naritasan Shinshoji temple, Chiba
If you have half day layover at Narita Air port why don't you visit Naritasan Shinshoji temple, landmark of Narita? Naitasan Shinhoji temple is the head temple of Shingonshu sect and ranked one of top three temple of Kanto region and visited by about 10 million people every year.
History of Naritasan Shinshoji
Founded in 1070 and rebuilt in 2008 Naritasan Shinshoji temple is Shingon sect Buddhist temple and Fudo myoo is the main deity of the temple.
In 939 when the nation was in upheaval by a revolt Archbishop Kanjo conducted a goma rite in front of image of Fudo-Myoo deity for 21 days, praying for the sake of peace. On February 14, 940 the final day of goma prayer the revolt was suppressed and was founded to commemorate the victory.
The Naritasa Main gate is made of zelkova wood. On the upper story of this Main Gate eight different Buddha images representing different birth years are enshrined for the protection of all people.
The people in Edo worshipped Narita san temple, and a big lantern with letter Uogashi, meaning fish market was donated at the gate from Tsukiji fish market and it weighs 800 kg.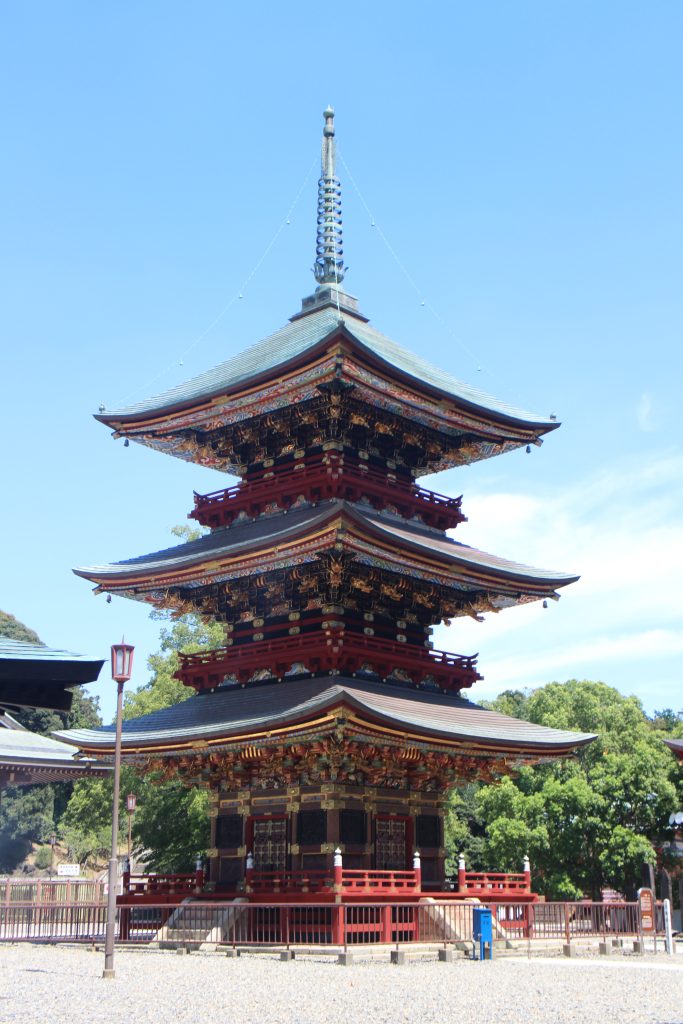 Built in 1712, 25 meters high three storied pagoda was beautifully curved and painted by the carpenter. In 2007 the lacquered finish was done to restore its former splendor. It is colored vermilion for mold prevention and beautifully painted. Vermilion color is thought to be auspicious color to ward off the evil.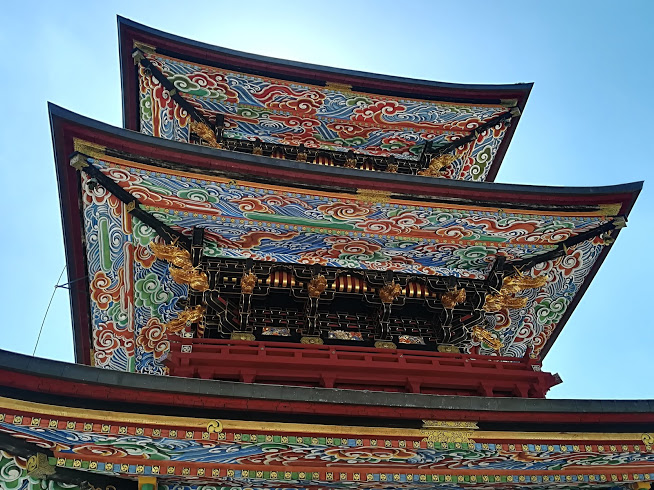 Dragon, giraffe and tapir, imaginative Chinese animals are beautifully curved. Inside the pagoda five Buddhas are enshrined and reliefs featuring 16 Buddhist saints are carved on the inner wooden walls.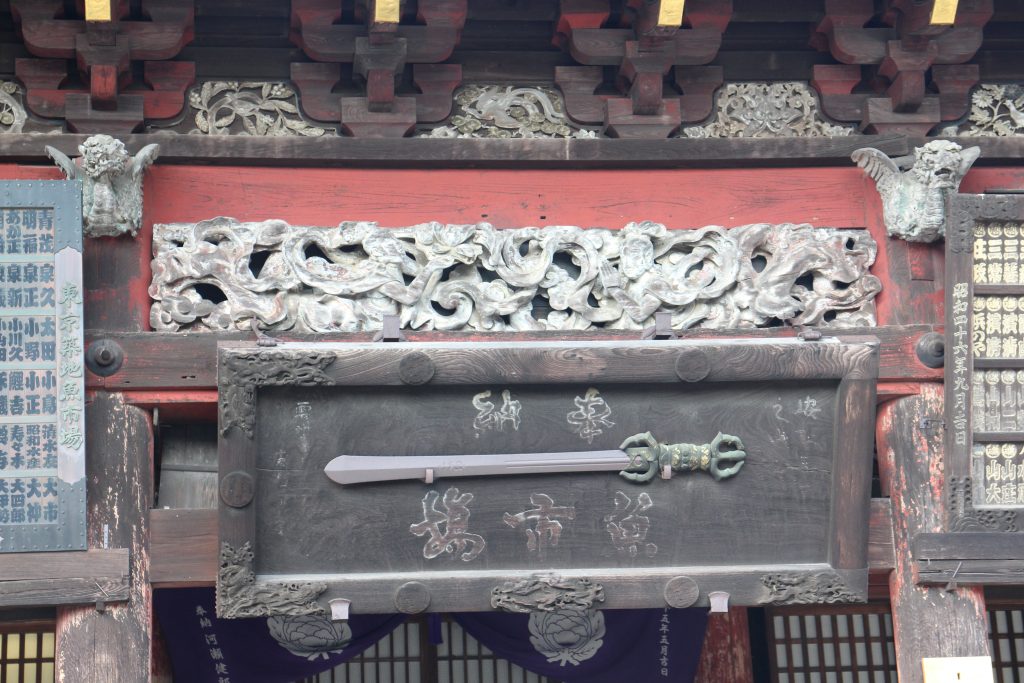 Fudo Myoo is the main deity, so we can see sword, symbol of Fudo Myoo everywhere.
Kabuki Family, Ichikawa
Prominent Kabuki actor, Ichikawa relates deeply to this temple. Danjuro Ichikawa who stated to act at his age of 14 was so popular kabuki actor. But his children were all girls and boy wasn't born. It was the problem for Kabuki family as Kabuki was played only by men. So he visited this Narita san temple to pray for birth of boy and the dream came true and after then Ichikawa family continues to have boys. The first kabuki actor, Danjuro successfully acted as Fudo myoo, the temple's main deity, and the audiences cried "Naritaya". This kabuki drama became specialty for Ichikawa kabuki family. They thanked birth of boy and success in Kabuki theater and donated the mirror to the temple. Mirror is one of sacred treasures of mirror, sword and jewels.
Heiwa no Daito, Great Pagoda of Peace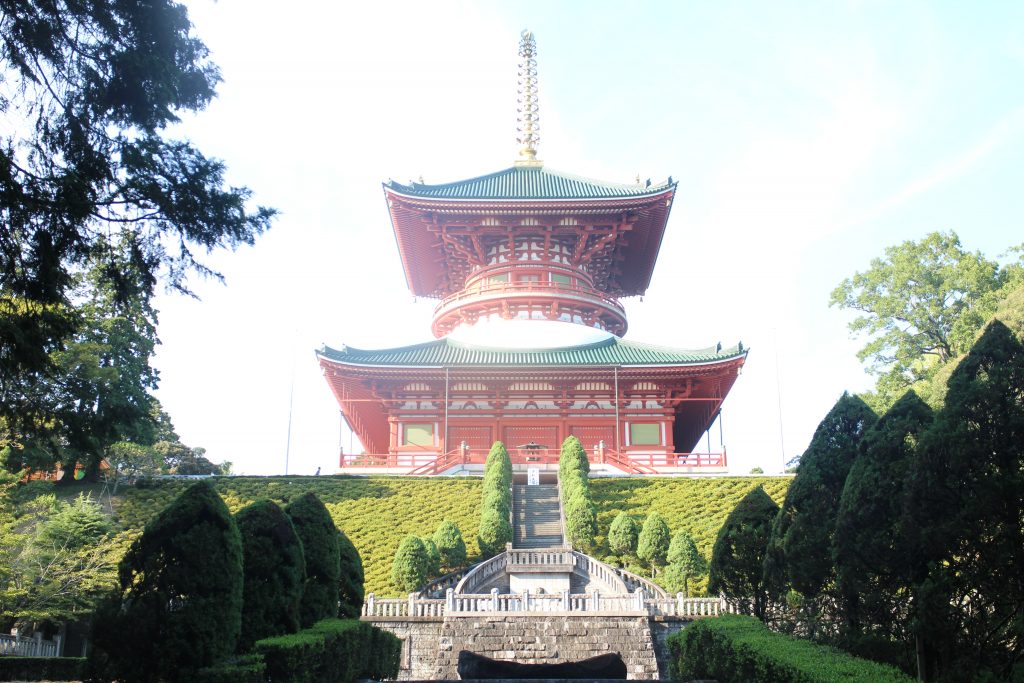 58 meters high Heiwa no Daito, Great peace pagoda is the symbol of Shingon sect of Buddhism. Inside there are exhibitions about Kabuki family and history, treasures of this temple.
Omotesando, Approach path to Naritasan Shinshoji Temple
800 meter long Omotesando Approach path from JR/Keisei Narita station to Main Gate is lined with many ryokan and restaurants, souvenir shops.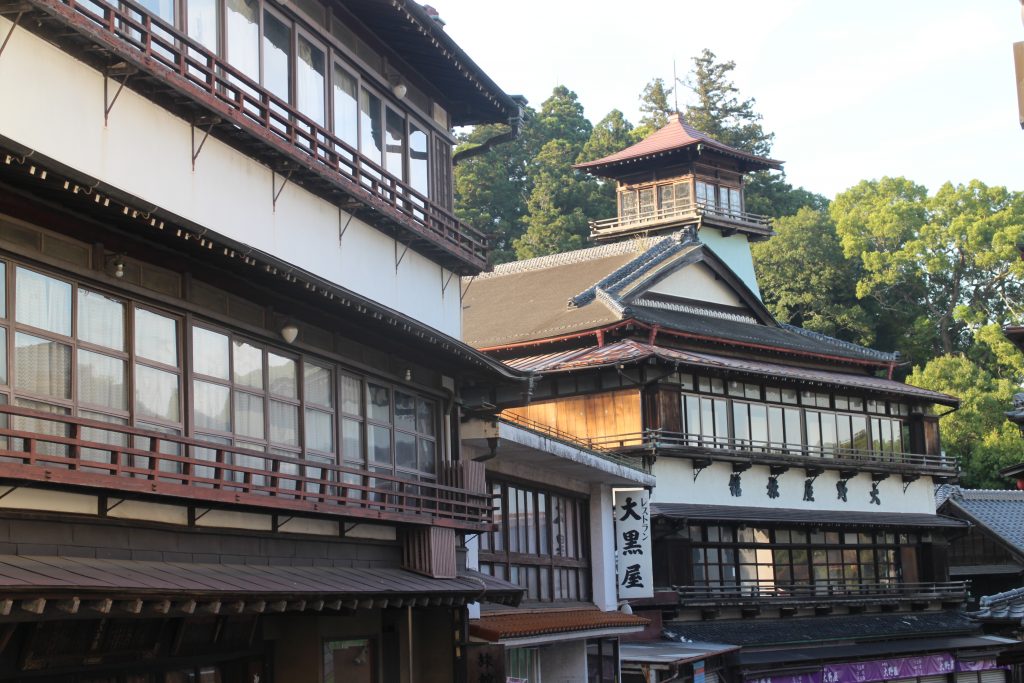 To see Kabuki drama of Ichikawa Danjuro many people visited Narita san temple and the temple became very popular. At that time it took about 2 stays and 3days to travel from Edo(now, Tokyo) to Narita, and many inns and restaurants were built for the visitors. This Omotesando area became the temple town for many visitor stayed and now for the foreign tourists.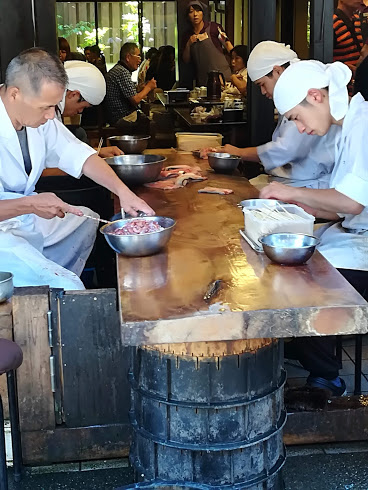 Narita has excellent freshwater fishing sites at river, so baked eel with rice is specialty of this area. Eel is lightly boiled by traditional method, then grilled with a sweet soy sauce. Take out is available. You can't miss it !!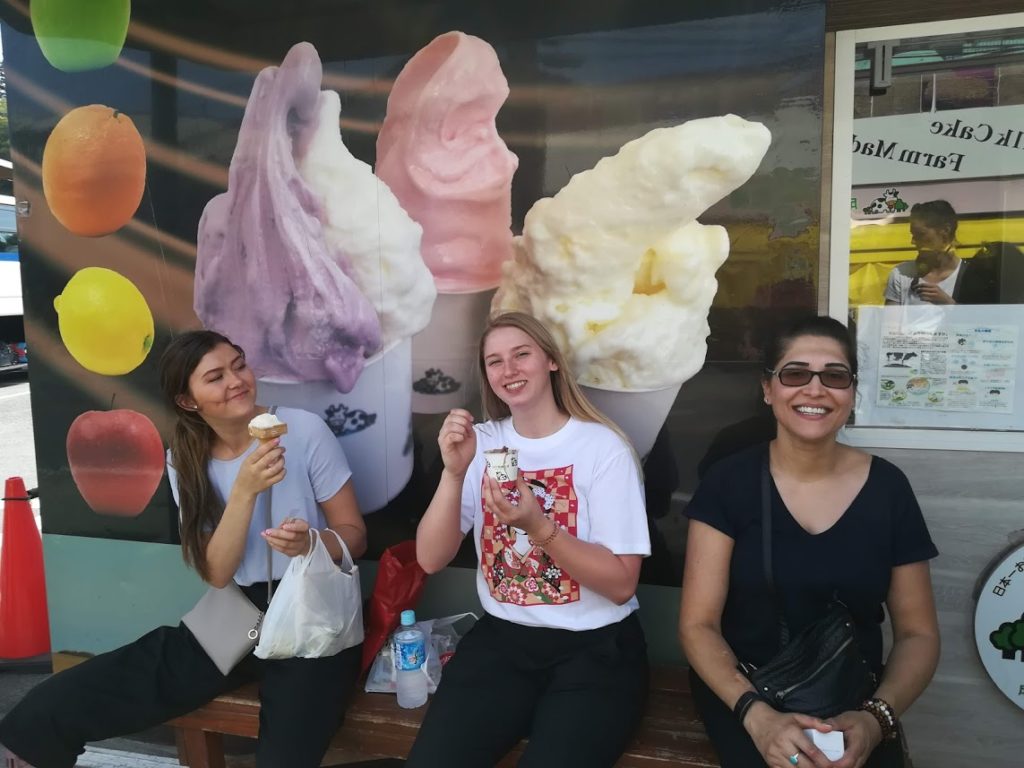 Naritasan Park
Naritasan Park covers 165,000 square meters and has a large pond, waterfall, and fountain. You can enjoy seasonal flowers such as apricot, cherry trees, azalea, green foliage in spring and vivid colors of autumn leaves.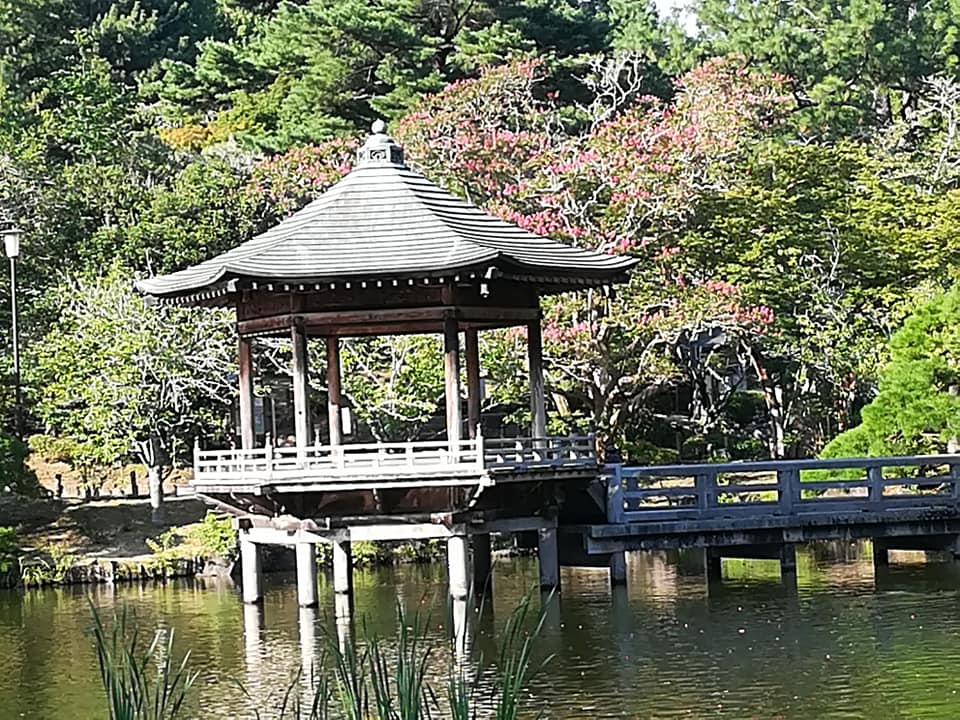 20 meters high waterfall is one of the most striking sights of the park.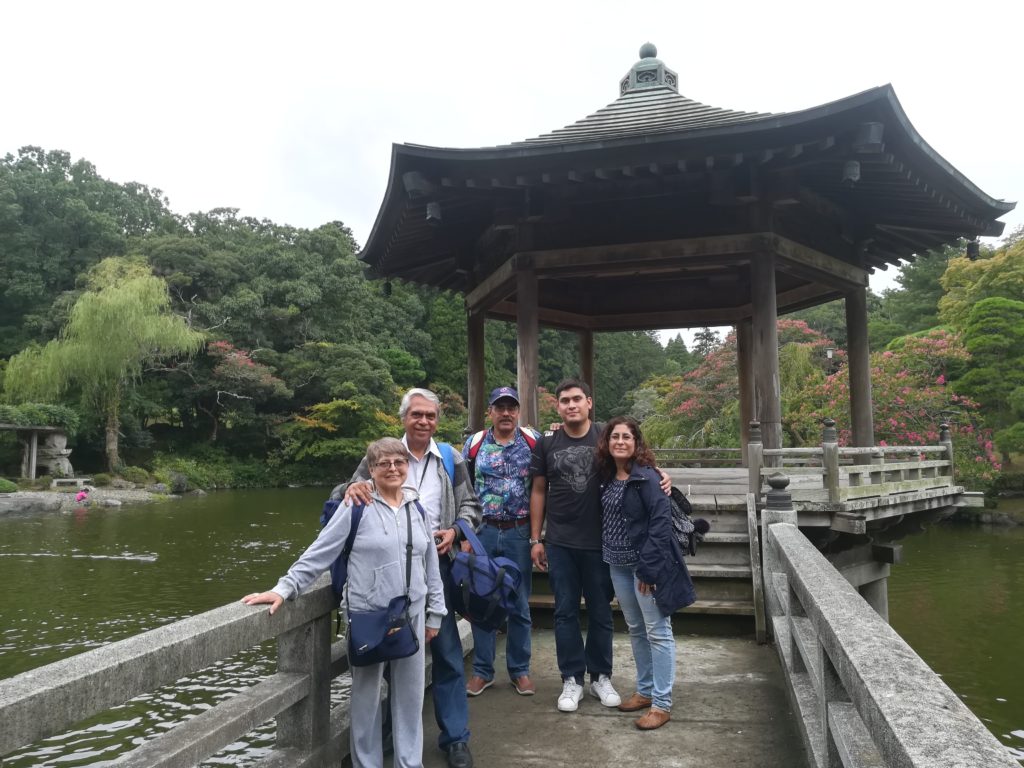 Author Profile