Tokyo Street Food: 12 must-try affordable street foods
You may think that all the restaurants in Tokyo are exclusively high ranked restaurants in the Michelin Guide.
But this is not true.
Why don't you stroll down on the busy side street or summer festivals in Tokyo?
You can find wide variety of affordable but delicious street foods.
Tokyo Street Food introduces the street foods by three categories of Snacks, Sweets and Popular foods at Summer Festival.
Our recommended street food areas will help you find the right place such as market and shopping street to enjoy Must try street food.
【 Essential Tokyo Street Foods 】Snacks
Street snacks can be seen at major pedestrian areas around train stations, temple/shrine or baseball stadium.
On festival food vendors take to the street, set the stall called Yatai, cook on the spot and serve street snacks.
Lured by good smell of street snacks the locals buy their favorite and eat standing or sitting on the bench.
Essential Tokyo Street Foods introduce 6 must try snacks in Tokyo.
Takoyaki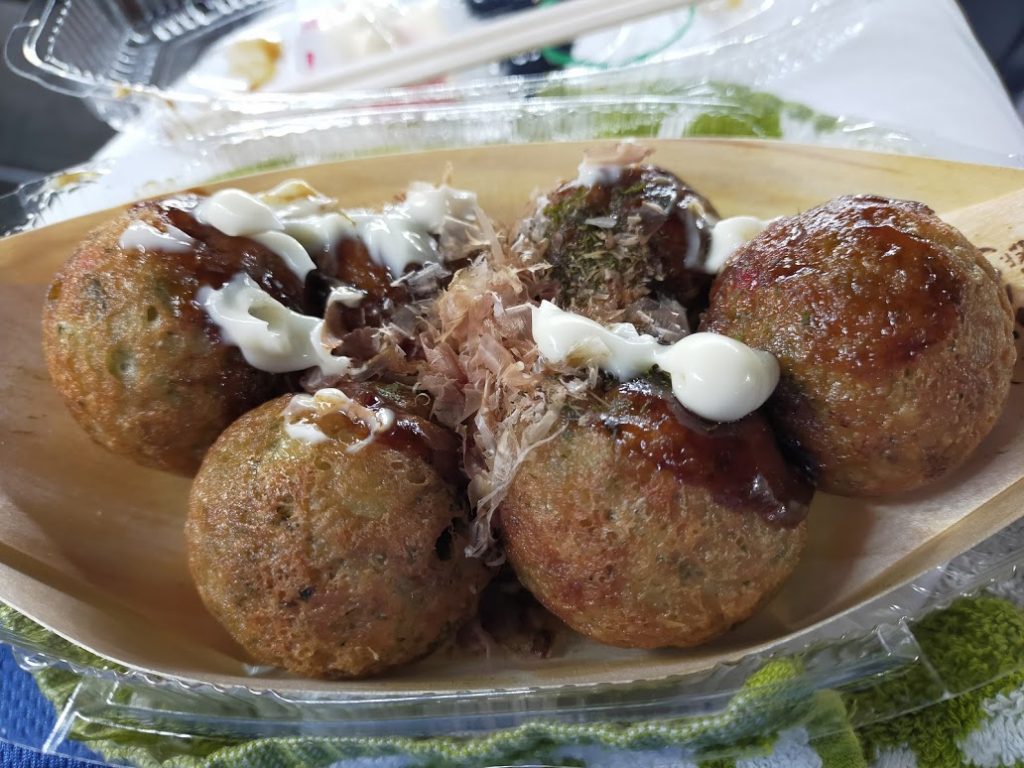 Typical price : around 400yen to 600yen for 8 pieces
Takoyaki can be eaten anywhere in Tokyo.
Tako in takoyaki means octopus and yaki means baked.
Takoyaki is a ball shaped and bite size pieces of dumpling made from grilled puffs of seasoned batter, containing a small piece of octopus in the middle.
Takoyaki will end up crispy outside and soft, gooey inside when it is ideally baked.
Once the batter is readily prepared, making Takoyaki is merely a matter of minutes.
First put the batter in a special takoyaki shape hotplate, and rotate the batter with pick while cooking to give the takoyaki its ball shape.
Once batter becomes golden brown all around, pick up each Takoyaki out of the pan and then place onto the plate.
Lastly, put the takoyaki sauce tasting very similar to Worcester sauce, mayonnaise, and sprinkle dried laver and bonito flakes on top.
It must be fun to observe Takoyaki vendor skillfully flip Takoyaki ball with a pick in rapid pace.
Takoyaki is served still hot in paper dishes resembling small boats.
Allow them to cool slightly and enjoy hot taking care not to burn your mouth.
Try this super popular snack invented by Japanese and you will be addictive, no doubt about it.
Okonomiyaki
Typical price : around 600yen to 800yen
Okonomiyaki can be eaten anywhere in Tokyo.
Okonomiyaki is a kind of pan cake consisting of batter and cabbage.
Usually filled with octopus, shrimp, pork, squad, Okonomiyaki can be arranged with other ingredients.
As this is not sweet, more accurate description of Okonomiyaki may be pizza.
Okonomiyaki's batter is usually made of flour, grated yam, water or dashi, eggs and mixed with shredded cabbage.
The ingredients may vary depending on the preference of the customer, but usually are green onion, meat, octopus, squid, or shrimp.
The topping is okonomiyaki sauce similar to Worcestershire sauce, mayonnaise, dried sea weed called aonori, dried bonito flakes.
Some Okonomiyaki restaurants have dining tables equipped with an iron griddle and the customers are served ingredients to cook the meal by themselves.
First, mix the batter with ingredients so that everything is evenly distributed.
Pour the mixture onto the hot griddle and shape the batter into a circle with a short metal spatula.
Once one side of Okonomiyaki is sufficiently cooked flip it onto the other side.
When both sides are cooked, add okonomiyaki sauce with brush and mayonnaise in zigzagging lines.
Sprinkle shaved bonito called katsuobushi, and aonori, green dried seaweed.
Okonomi means "As you like", so you can arrange with your favorite ingredient such as rice cakes and cheese.
Related Post
Street food and off the beaten track around Shibuya
Ikayaki
Typical price : around 500 yen
Ikayaki is tender grilled squid with teriyaki or soy sauce or sometimes rice wine, miso paste and ginger.
Ikayaki becomes more delicious as it is half-dried because the flavor concentrates and becomes stronger after dehydration.
Ikayaki is more commonly sold by street vendors around shrines & temples, on local festivals and fish market.
At stands called yatai, the vendors quickly grill medium-rare thick squid over charcoal fire with salt.
Once ready on the grill chewy and smoky Ikayaki is served in bite-size pieces or in skewered whole pieces.
Ikayaki is chewy and gooey having unique texture.
Japanese believe that the more we chew the Ikayaki the more it becomes tasty.
Ikayaki goes well with mayonnaise and a chili pepper.
Yakisoba
Typical price : 350-700 yen
Yakisoba is Japanese stir fry noodle dish with pork and finely chopped vegetables like cabbage, onions, beans sprouts and carrots.
Then flavored with yakisoba sauce similar to Worcestershire sauce, aonori(seaweed powder), beni shoga (shredded pickled ginger), bonito fish lakes or japanese style mayonnaise.
Some are flavored with soy sauce or only salt.
Yakisoba appeared in the 1930s and became children's popular snack at candy shop and later came to be cooked at home and Japanese diners.
As a popular street food you can find Yakisoba sold at stalls on festivals or super markets.
Yakisoba is very easy to make and can be also made at home.
Family gather around hot plate and cook yakisoba together using yakisoba noodle and ingredients from refrigerator at lunch time.
You can make Yakisoba in your style using your favorites.
Try with seafood or without meat in vegetarian style.
Yakitori
Typical price : 100-200 yen per item
Yakitori are grilled chicken skewers easily found at specialized Yakitori-ya, izakaya bar and stalls on local festivals.
Many restaurants and stalls offer plates with multiple types of yakitori.
When ordering Yakitori we can choose a sweet and savory yakitori sauce or salt for seasoning Yakitori.
Yakitori are from all different parts of chicken, such as breasts, thighs, skins, liver and others as below:
Negima consists of thigh meat and pieces of green onion on stick.
Momo means thigh meat and made of pieces of chicken thigh.
Tsukune are meatballs made of minced chicken, egg, vegetables and spice.
Torikawa are strips of chicken skin which is grilled until it becomes crispy.
Tebasaki are chicken wings grilled to a golden brown.
Reba are chicken livers and named after German for liver.
Nankotsu is cartilage from keel bone between chicken breasts. Cartilage has crunchy texture and contains a lot of collagen.
Related Post
Best 6 Yakitori Restaurants in Tokyo – Fancy to Casual –
Menchi Katsu
Typical price : around 250-300yen per 1 piece.
Menchi Katsu is often served in inexpensive bento lunch box, and also served as street snack at meat shops like "Sato" near JR Kichijoji station.
Menchi katsu is a mix of minced beef and pork meat, sliced onions, powdered, egged and breaded before it is deep fried to be golden brown.
Once you bite in, the juicy flavor explores in your mouth.
Meat shop Sato Kichijoji is so popular that the shop runs out of menchi katsu by the afternoon every day.
Sato is a few minutes walk from JR Kichijoji station, and very popular among locals.
As you have to make a long line to get, so we recommend you should visit at 10:30-12:00.
Sato's menchi katsu is simple and delicious as it is juicy and sweet in combination of meat and sliced onion and worth a try.
【Essential Tokyo Street Foods】Sweets
Japanese love sweets such as Taiyaki and Ningyoyaki and they can be bought all across Japan.
Taiyaki and Ningyoyaki are typically filled with sweet red bean paste called anko.
But we know sweet lovers are not always anko lovers.
Nowadays you can choose ones filled with chocolate or custard.
Besides anko filled sweets this article introduces street sweets like not so sweet Mitarashi-dango, Crapes and Daigakuimo sweet potatoes.
Mitarashi dango
Typical price : around 100-150 yen per one skewer
Mitarashi Dango can be eaten in nostalgic shitamachi areas such as Asakusa and Shibamata.
Small round rice dumplings skewered on bamboo sticks are covered with a gooey sweet and soy sauce based brown sauce.
Typically three to five dumplings are on a skewer.
Mitarashi dango is grilled to get a little char and mildly sweet, not over sweet having a good combination of sweetness and saltiness.
Mitarashi dango is originated from a rice dumplings made as offerings for deity at famous shrine in Kyoto.
Mitarashi dango was later sold at street vendor around shrine and eventually at supermarkets, convenient stores and specialty sweet shops all over Japan.
Mitarashi dango goes well with hot Japanese green tea.
Related Post
Temple of Wood Carving & Yamamoto-tei, Shibamata, Tokyo
Crepe
Price range : around 300-600 yen per one piece
Crepe can be eaten mainly in Harajuku and Akihabara areas.
Crepe first appeared as a street food in Tokyo's Harajuku-Shibuya area in late 1970s.
Today Takeshita street in Harajuku is still known for its numerous crepe shops.
Crepe is filled with whipped cream, seasonal fruits and sweet syrup and wrapped in a thin paper, making it easy to hold and eat without touching by fingers.
Japanese crepes tend to contain less sugar than western desserts because Japan is a health conscious country where girls and young ladies wish to be slender.
Instead there are many kinds of toppings such as fresh seasonal fruits including strawberry, melon, orange,  grape, berries, Japanese matcha green tea ice cream and puddings.
As Japan has four clear cut seasons,  toppings are seasonally different like strawberry in spring, and kuri, chestnet in autumn.
While nuts toppings are effectively used available year round, kuri, chestnuts are a popular seasonal ingredients in autumn.
Crepe is cute, photogenic and so much fit for Japanese Kawaii culture.
Related Post
Tokyo highlights, Tocho observatory, Meiji shrine, Imperial palace, Akihabara
Ningyo-yaki
Typical price : around 500yen per 7pcs
Ningyo-yaki can be eaten mainly in Asakusa area where you can watch the procedure to make Ningyo-yaki.
As Ningyo is Japanese word for doll, Ningyo yaki is small cake baked in small molds shaped like doll and filled with sweet anko bean paste.
Ningyo yaki is pancake like and fluffy, popular souvenirs and it is also fun to discover different shapes made at different shops.
There are each different Ningyo-yaki in each local attraction.
In Sensoji temple at Asakusa, shops on Nakamise street sell small cakes shaped five story pagoda, and big lantern of Kaminarimon thunder gate.
Nowadays besides traditional mochief there are kitty, doraemon and other cute shaped Ningyo yaki.
Ningyo-yaki keep for several days, so must be good souvenir.
Unless you like sweet anko red beans paste you can choose ones filled with chocolate and custard.
Ningyo-yaki goes well with coffee and green tea.
Related Post
Tokyo highlights, Meiji shrine, Asakusa, Ueno & Tokyo National Museum
Daigaku Imo
Typical Price: around 700yen for 400g
Daigaku Imo is deep fried sweet potatoes grazed with honey or sugar, and served with a sprinkle of black sesame seeds.
This healthy Japanese snack made of natural ingredients is categorized into organic, vegan, vegetarian and gluten free.
Daigaku means university in Japanese.
How does Daigaku Imo have to do with Sweet potato?
In Japan during recession in 1950s to 60s a prestigious Tokyo University student invented this snack and sold to earn university's fees.
This is said to be the origin, and even now Daigaku imo is still loved and can be found at many food stands and school autumn festivals. With crispy skin outside and buttery tender bites inside Japanese candied sweet potatoes is a classic Japanese snack to enjoy in fall and winter.
Daigaku Imo is glazed in a caramelized syrup for just the right amount of sweetness.
Must Try Street Foods at Summer Festival
Summer festival is the invention by Japanese who want to spend hot humid Japanese summer comfortably at night, as well as fire work display.
Men and women waring Yukata love to buy at food stalls selling many kinds of street foods, and eat them while drinking and seeing fire works at summer night.
Must Try Street Foods at Summer Festival introduce 2 must try street foods on summer festival.
Cucumber on stick
Typical price : 100-200yen for one stick
You may not expect to see this simple cucumber at summer festival.
But you can often see Yatai stand selling just cucumbers on sticks on the ice.
Maybe you can't understand why people were buying tons of cool cucumbers, not ice creams.
But one bite will give you a good reason to eat during hot humid Japanese summer.
Chilled cucumber is crunchy and surprisingly refreshing and will cool you from the inside in scorching heat.
Cucumbers in Japan are a quarter of the size of western cucumbers and very thin.
Try it with a bit of miso on top and it will be addictive hot summer festival food.
Except in summer we rarely see chilled whole cucumber on a stick.
Kakigori
Price range is 300-2000 yen
Kakigori is similar to shaved ice eaten in the foreign countries but with some differences.
Kakigori has much more smoother fluffier ice, more like fresh snow.
As the kakigori's texture is different from other shaped ice it is often called Snow cone or Angel snow.
The moment when we put into mouse it melts, so we feel snow melting.
Syrup on Kakigori includes strawberry, cherry, lemon, green tea, grape, melon, sweet plum, tapioca pearls and sweetened red beans.
Among them some kakigori use richly raw fruits which cost as much as 2000 yen.
Kakigori is sold not only at street stall in festival but in specialized kakigori parlors and restaurants, also can be made at home.
A flag with kanji for "氷" meaning ice is a traditional and usual way for shop to show they serve kakigori.
Find this vivid flag and try Kakigori.
Related Post
Tokyo Highlights, Asakusa, Ueno, Yanaka & Nippori Fabric Town
One of Best Destination for Street Food in Tokyo
Tokyo Street Food introduces must try street foods each by snacks, sweets and popular street foods on summer festival, and lastly where you should go to enjoy them as locals do.
Yanaka Ginza Shotengai
Yanaka Ginza Shotengai  is located between Nippori st. and Sendagaya st.
Yanaka Ginza Shotengai is 170m long street lined with around 60 shops having a nostalgic atmosphere in which you can experience good old commercial practices in Japan.
Yanaka Ginza Shotengai is within walking distance from Ueno park well known with statue of last samurai, Saigo, prestigious Museums and Ueno zoo.
Yanaka is called Town of Cats where many cute cats' ornaments are sold and cats are drawn in shops or put on top of shop's roof.
The area is must place to get most of must try street foods introduced in this article.
Related Post
Private Japanese Ikibana Culture of Plants Experience
Author Profile